More than 130 arrested during civil unrest in downtown Minneapolis
Calls for peace have followed the night of damage and violence.
UPDATE 3 P.M. 
Hennepin County Sheriff David Hutchinson announced Thursday afternoon that 132 people were arrested during the civil unrest that erupted in downtown Minneapolis Wednesday night. 
Those arrested were accused of riot, burglary, damage to property and curfew violations. 
"I am now asking everyone to come together and refrain from more violence and looting. Let's work together to prevent further destruction, pass meaningful police reforms and build a safer Hennepin County for everyone," Sheriff Hutchinson said in a release. 
Original story
Jail records indicate that there were dozens of people arrested and booked into custody in connection to the lawlessness in downtown Minneapolis Wednesday night.
The spark for Wednesday's civil unrest appeared to be the death by suicide on Nicollet Mall of a Black man suspected of an earlier homicide at a parking ramp, with false rumors spreading on social media suggesting he had been killed by police.

There also remains anger over the police shooting of Jacob Blake in Kenosha, Wisconsin, followed by the subsequent killing of two protesters allegedly by a teenager with alleged ties to white militia. 
The unrest led to smashed windows, fires and numerous businesses being looted. You can find a full list of business that were damaged here. 
Aug. 26-27 damage in downtown Minneapolis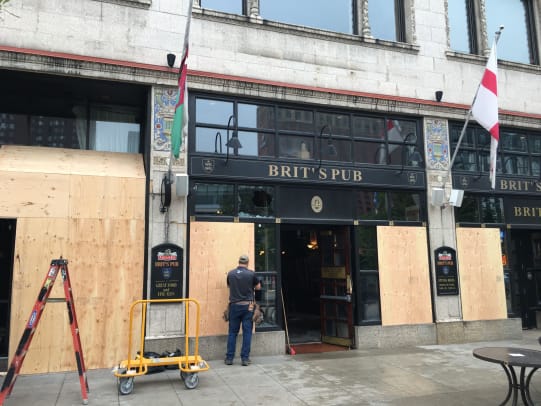 Gov. Tim Walz didn't hesitate to approve Mayor Jacob Frey's request to call in the National Guard to assist the hundreds of Twin Cities-area police and State Patrol troopers that were dressed in riot gear and clearing streets in and around the Nicollet Mall. 
Troopers and DNR conservation officers arrested 33 people, according to the State Patrol, while MPD Chief Medario Arradondo said more than 50 people were arrested. Jail records show at least two dozen were arrested for riot or burglary, with many of them residing outside of Minneapolis. 
18-year-old, Coon Rapids, burglary
18-year-old, Coon Rapids, burglary
18-year-old, Rochester, burglary
18-year-old, White Bear Lake, burglary
19-year-old, Afton, burglary
20-year-old, Minneapolis, burglary
23-year-old, St. Paul, burglary
23-year-old, Minneapolis, burglary
24-year-old, St. Paul, burglary and possession of narcotics
29-year-old, St. Paul, burglary
31-year-old, Minneapolis, burglary
36-year-old, Minneapolis, burglary
39-year-old, Minneapolis, burglary
48-year-old, St. Paul, burglary
20-year-old, Crystal, riot
20-year-old, St. Paul, riot
21-year-old, Lake Elmo, riot
22-year-old, Inver Grove Heights, riot
22-year-old, Crystal, riot
24-year-old, Minneapolis, burglary and riot
36-year-old, New Hope, riot
41-year-old, Bloomington, riot
43-year-old, Minneapolis, riot
50-year-old, Minneapolis, riot
A spokesperson for the Hennepin County Sheriff's Office told BMTN that officials were in the process of releasing a total number of people arrested. 
It is not clear if anyone was booked into jail for breaking the citywide curfew that expired at 6 a.m. Thursday. The curfew in Minneapolis will be enforced again Thursday night at 8 p.m. until 6 a.m. Friday. 
"We do not need more destruction, we do not need property damage," Frey said during a late Wednesday media briefing. "That is unacceptable in every way shape and form, and I want to be very clear, it will not be tolerated."
Minneapolis Fire Department responded to four fires overnight, including a fire that required the rescue of two residents from the second floor at the China Wok restaurant on the 2800 block of S 27th Ave. The three other fires were at Brit's Pub, Tires Plus on the 1100 block of Lake Street, and at Walgreens on the east side of Chicago Avenue just south of 42nd. 
Shortly after a man fatally shot himself between 8th and 9th streets outside the Nicollet Mall, Minneapolis Police Department (MPD) released graphic video of the incident in an apparent attempt to end misinformation and rumors circulating that the man had been shot by police. 
The man who died by suicide was considered a shooting suspect in a homicide that happened around 2:10 p.m. Wednesday at Ramp A in downtown Minneapolis. MPD issued the following about what happened leading up to the man's suicide. 
"At 6:00 pm, the male shooting suspect was located on foot on Nicollet Mall between 8th and 9th Street. As officers approached the suspect, the suspect produced a handgun and took his own life. Officers immediately started life saving measures and paramedics were dispatched but the suspect was pronounced dead at the scene. The Minneapolis Police Department released a video from street cameras of the suicide in attempt to quell rumors and thwart civil unrest."
The identities of the suspect and the person killed in the parking ramp have not been released.