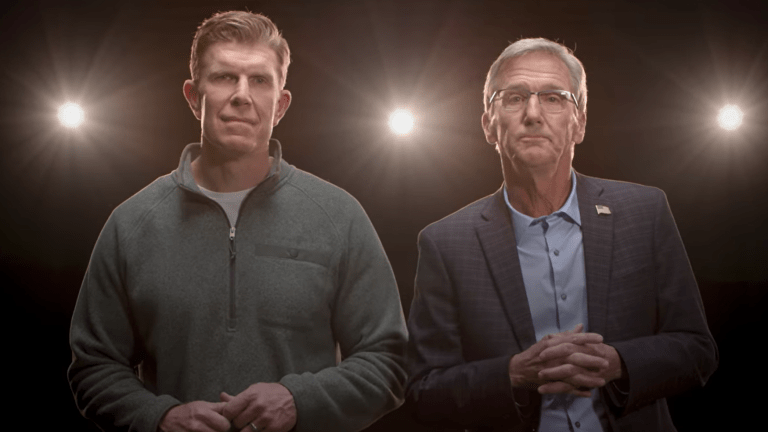 Dr. Scott Jensen names former Viking Matt Birk his running mate for governor
Birk has been criticized for his conservative views.
Republican gubernatorial candidate Scott Jensen has tapped former Minnesota Viking Matt Birk as his running mate. 
The former state senator is the first of the many GOP candidates to announce a running mate in the contest against incumbent Gov. Tim Walz, a Democrat. Birk was previously named Jensen's campaign co-chair. 
Their announcement goes all-in on the football theme, with Jensen saying "We need to take back the field, but we can't do it alone. We need a teammate who isn't afraid to hit back" before introducing Birk. Here's the video:
Birk, a St. Paul native who played with the Vikings until 2009 and then won a Super Bowl with the Baltimore Ravens, has been outspoken about his conservative views. He has opposed abortion and same-sex marriage, including in 2012 when he expressed support for a proposed constitutional amendment that would have banned same-sex marriage in Minnesota. 
He has also been skeptical about Minnesota's and the country's approaches to handling the COVID-19 pandemic and the COVID-19 vaccine, saying he won't get it. His views on COVID-19 mirror Jensen's, who is a doctor in Chaska. 
In a statement, Minnesota DFL Party Chairman Ken Martin said, "By selecting Matt Birk as his running mate, Scott Jensen has doubled down on the far-right extremism."
"Scott Jensen has selected a running mate who is as committed to the far-right fringe as he is," Martin said, calling this "far-right extremism" "out of touch with Minnesota's values"
Birk attended Cretin-Derham Hall and Harvard University, where he earned a degree in economics. He and his wife, Adrianna, have eight children. In 2019, they opened a faith-based school called Unity High School in Burnsville. 
In a statement, Birk said he "could not be more excited" to join Jensen's ticket, adding they are "in this race to win."