End 'renting' from your utility company and go solar
A solar installation is one of the few home improvements that actually pays for itself.
Cold weather and measures to reduce the spread of COVID-19 have meant more people, adults and children alike, are staying at home for more hours in the day. This in turn has led to escalating energy bills, with Minnesota utility customers paying double or triple what they would normally spend on electricity compared to previous years.
Even under normal circumstances, utility payments are a recurring monthly expense that continues to add up year over year with nothing to show for it. It's not like paying off a house or credit card, where eventually the balance is paid and the bill goes away.
But what if it could be? All Energy Solar explains how.
Solar pays for itself as it powers a property
A solar installation is one of the few home improvements that truly pays for itself over time, typically within five to 10 years, depending on the array size and energy usage.
When an installer makes a proposal for a solar array, the design is calculated not based just on the size and shape or the roof, but the amount of energy the property consumes. The idea is to install a "right sized" system that covers most or all of the electricity needs, depending on the property owner's energy goals.
After the solar array is in place, it generates power as long as the sun comes up every day, reducing and often eliminating bills paid to the utility.
Changing relationships with utilities
In most places, solar arrays can be built to generate as much as 120% of a property's power needs. This is where the relationship between a solar customer and the utility company really shifts. Excess energy from the solar array is "sold" back into the local utility's power grid for a credit on the next energy bill, a process that is known as "net metering."
It's common for solar customers to receive credits from the utility company throughout the summer instead of a bill. The credits can then be used in the winter months to pay utility costs when days are shorter with fewer hours of sunlight.
Net metering allows customers who generate their own electricity cleanly and efficiently to take greater advantage of the investment installed on their rooftops, helping to lower their annual electric bill.
All Energy Solar Gallery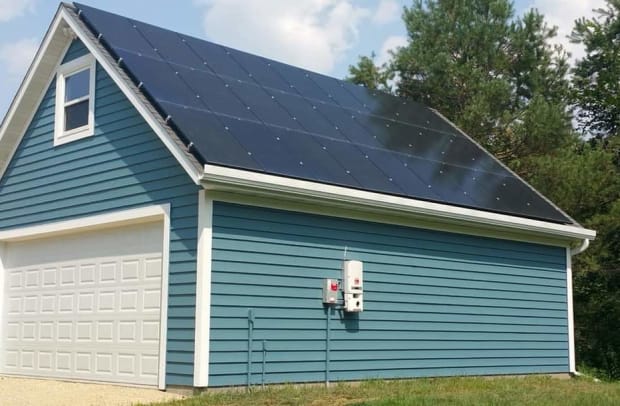 Making the switch with incentives and solar loans
Solar incentives can help pay for the installation of a photovoltaic system. The federal tax credit is 26 percent for any solar array installed during 2021.
Regional incentives like the Minneapolis Green Cost Share program and utility rebates like Xcel Energy's Solar*Rewards can also assist people with making the switch to solar energy.
Additionally, solar loans have put solar power systems within reach to more people than ever before. A variety of 10, 12, 15 and 20-year loan options for residential installations start as low as 0.99 percent. Specialized Property Assessed Clean Energy (PACE) loans are available for qualifying businesses to install solar panels as well.
Greater energy independence and lower power costs are in the future for those who make the switch to solar. Big, small, rooftop mounted or out in a field, Minnesota solar arrays come in many shapes and sizes to accomplish energy production goals. Download our ebook Solar & Energy Bills for more information.
A trust name in Minnesota solar energy
Every year, All Energy Solar makes switching to solar energy easy for property owners of all kinds — residential, commercial, agricultural, municipal and more. Our industry experience allows us to confidently handle every aspect of the solar process. From initial energy analysis and concepts, engineering and design, construction, and monitoring, our team prides itself on being experts in all aspects in our field.
Break the cycle of "renting" your power from the utility company. Get a free virtual solar consultation from All Energy Solar.