Fallout from Minnetonka school's morning announcements highlights deeper tensions between district, parents
On at least two occasions this school year, Minnetonka Superintendent Dennis Peterson has referred to parents who raised concerns to the School Board as "very nasty" via email.
A "Person of the Day" feature during the morning announcements at Minnetonka Middle School East (MME) is revealing tensions between education leaders and parents within the wider school district.
In the past few weeks, some parents and students have been sharing stories about longtime Minnetonka Public Schools Superintendent Dennis Peterson and the Minnetonka School Board, criticizing them for being slow to comment on social issues and being dismissive when concerns are raised to them.
Two parents told Bring Me The News they've received emails this school year that were mistakenly forwarded to them by Peterson, in which he calls them "very nasty" after they shared their opinions with the School Board. 
This fallout comes after MME language arts teacher Colin Perucco, at the request of a student, highlighted the legacy of Marsha Johnson during his "Perucco's Person of the Day" segment on the MME Morning Show.
Johnson was a famous Black transgender activist, self-identified drag queen, and former sex worker considered a historic yet marginalized figure who played a key role in the Stonewall uprising and gay civil rights movement.
Related [March 2]: Community rallies to support Minnetonka teacher threatened for discussing Black trans woman during morning announcements
The segment led to backlash against the teacher from some who thought it was inappropriate to talk about Johnson with middle school students after it was picked up by the right-wing website The Daily Wire, which condemned Perucco. As a result, the Minnetonka Coalition for Equitable Education (MCEE), a grassroots organization led by students, parents and alumni, criticized MME Principal Pete Dymit and Superintendent Peterson for staying silent and not swiftly coming to the teacher's defense.
The principal did end up sending a statement to families on March 1, saying he supports Perucco while stressing that he would have more oversight on what is said during the morning announcements going forward. Minnetonka district spokesperson JacQui Getty reiterated this to BMTN, stating the principal "will be heavily involved in directing and vetting content for the program."
In the weeks since Perucco's "Person of the Day" segment aired, MCEE and others have criticized the school district for not announcing its support for Perucco or commenting on the harm the response to his segment has caused students and staff, especially those who identify as LGBTQ+ and/or BIPOC.
Some have started a Change.org petition to show their support for Perucco, with commenters saying the backlash against Perucco is unwarranted, calling the lesson appropriate. Others said teachers like Perucco, who highlight inclusivity and all sides of history, are needed, adding he shouldn't be criticized because "he wanted to teach about something Minnetonka doesn't like."
Meanwhile, Minnetonka alumni started a Facebook page on March 9 dedicated to Minnetonka LGBTQ+ students and alumni and their allies. The page created a video featuring several former Minnetonka students to show their solidarity, support and respect for LGBTQ+ and BIPOC students at Minnetonka.
MCEE calls on board to review Peterson's conduct
"As badly as we may feel for this incident having impacted Mr. Perucco and his husband and those around him — his fellow teachers — it was really a catalyst for the community," Sarah "Sally" Browne, a Minnetonka parent and member of the MCEE, told BMTN, noting the group was requested to get involved because Perucco and other teachers weren't getting the support they needed from district leadership. 
MCEE held a rally to support Perucco on March 4 ahead of the Minnetonka School Board meeting, during which the group urged the school district, board and Peterson to "do more and do better" at supporting teachers, LGBTQ+ and BIPOC students, and staff, and provided a list of demands of the School Board.
The rally featured various speakers, including students and parents, and dozens of students and community members holding signs showing support for Perucco while demanding inclusivity in the district (watch it here).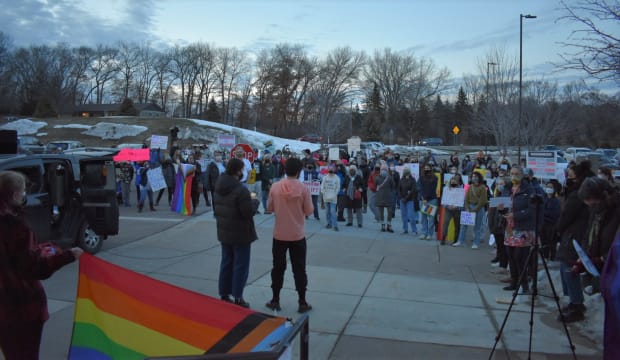 Among MCEE's demands is having the board review the conduct of its sole employee, Superintendent Peterson, and take action to ensure he's acting in the best interest of the community and district policies. 
"Dr. Peterson has been very dismissive of anybody who has presented a view that is suggestive of change and offering support for change," Browne told BMTN on March 4.
Browne told BMTN that on March 3, School Board Chair Chris Vitale acknowledged receiving the MCEE's Letter of Demands, "but has otherwise provided no response."
The School Board said, via Getty, that it "will consider the MCEE group's concerns, as it does with other input submitted by members of the school community." And Getty says that to her knowledge, as of March 8, neither MCEE nor any student groups have requested a meeting with the district, district administrators, the School Board or Peterson.
MCEE got its start in June 2020 because of what it perceived as the same lack of response from the district following the death of George Floyd. Minnetonka student Jin Bang started a "Diversify Minnetonka Public Schools" petition in the wake of Floyd's death, appealing to the district to work with students to enact change and better educate students and staff on race and equality issues.
Related [June 10, 2020]: Petition calls for diversity, changes at Minnetonka Public Schools
In the petition and in comments on a district Facebook post, people criticized the district's delayed response to Floyd's death and said Minnetonka Schools have a "long history" of brushing "controversial topics" under the rug or "only instating reactionary reforms after something has happened," giving the example of an antisemitic dance proposal that prompted the district to bring in a speaker to talk about antisemitism only after the event happened.
The petition also claimed teachers don't get anti-racism training and current events aren't mentioned or explained "for fear of seeming too controversial."
Browne told BMTN they formed MCEE after district leadership "failed" to respond to appeals for change from students, alumni and community members. Since then, the group has held rallies and events for local clubs and has engaged with school board members to further diversity and equity in the district. It also created its 11 imperatives for the Minnetonka School Board.
Some of those imperatives were incorporated into the School Board's 2020-21 goals, listed under Goal 2: Excellence & Belonging — Diversity, Equity, Inclusion.
The board's Goal 2 is at the center of some Minnetonka families' issues with the Perucco situation and how district leadership responds to parents when they raise concerns. 
Superintendent mistakenly sends email to parent calling her 'a very nasty person'
"Very nasty person," is how Heidi Calhoun-Lopez, a parent of an MME sixth-grader and a Deephaven Elementary student, started her comments at the March 4 rally (watch here) and to the Minnetonka School Board at its meeting that night (watch below). 
That's how Peterson referred to her in a March 3 email that appeared to be intended for School Board Chair Chris Vitale, but was mistakenly sent to Calhoun-Lopez. 
"Chris: This is a very nasty person and she didn't include me," Peterson wrote, according to emails Calhoun-Lopez shared with BMTN on the morning of March 4, saying she was in "utter shock" when she saw the email — her heart was racing and she felt like she was going to throw up. 
The emails she had sent to district leaders included a message of support for Perucco and a note to the School Board in which she made a "genuine, heartfelt offer" to help with diversity and inclusion initiatives, she said and which her emails show.
"At some level ... once I had time to process it, it was much less of a shock because this is what I largely expect from Dr. Peterson," Calhoun-Lopez told BMTN, referring to comments Peterson made during an August School Board meeting in which he compared COVID-19 to the flu. 
That's the only other time she had communicated with Peterson, emailing him saying she thought it was inappropriate to make the comparison. Calhoun-Lopez said he responded "really dismissively of me and it was really insulting." She said she knows "So many women" who have communicated with Peterson who have said, "Dr. Peterson mansplains me, Dr. Peterson dismisses me, Dr. Peterson is rude."
Calhoun-Lopez did call Peterson on his dismissive tone to which Peterson "kind of apologized, in the Dr. Peterson way." She thought things were good, but then she got the "very nasty person" email and it was "really hurtful."
"This is not about me — it's about marginalizing voices that disagree with him," Calhoun-Lopez said, adding she doesn't think she's the only person he's talked about like this. "It's really painful for me to think about how people are feeling, for example in the LGBTQ community right now at our school, it's very painful for me to imagine what they must be feeling to be so isolated."
Calhoun-Lopez's point in sharing her story is that to "listen with compassion" is part of the School Board's Goal 2, and she feels that isn't happening. 
At the end of the School Board meeting, Vitale did not comment on Calhoun-Lopez's specific remarks (she got cut off for not following the meeting rules and said they could talk about it at a later time). He did read a prepared statement at the end of the meeting thanking the students and parents who contacted the board about the MME morning show and the board's Goal 2, adding the board has "unwavering support" for teachers and staff. 
"We believe the work of Goal 2 is critical. It may take time and energy to accomplish all aspects of it in a meaningful way, but we are pleased with the District's progress thus far, this year," Vitale said, noting it is not the board's place to manage day-to-day operations at schools or personnel matters but to set the district goals and oversee the superintendent in accomplishing the goals. 
He added: 
"As we look ahead, I think we all know there will be times where we — as a community — do not all agree. There will be times when things do not move as quickly as some in our community may want things to move — or when things move faster than some in our community want things to happen.

"We are evolving together as a school community, and as we do this, let's do our best to honor everyone's journey, to move forward together, to assume positive intent, to open our minds to others' perspectives … to listen and learn from each other. The Board is committed to this, and we hope that each person hearing this will commit to it, as well."
Calhoun-Lopez followed up with the School Board after the meeting, forwarding the thread in which Peterson called her a "very nasty person" and a note that said, "I am sure you can appreciate how troubling it is that a district superintendent dismissed the concerns of a parent with such contempt."
Vitale responded the next day, saying "On behalf of the School Board, I want to acknowledge your email. The board will consider this input."
When asked if Peterson or the School Board has a comment on this, Getty said, "The board chair invited the parent to connect with him so the board could review the matter."
The response from the board did not satisfy Calhoun-Lopez, and she sent a follow-up email with requests for the district, including a written apology from Peterson and asking the school board to appoint an independent commission to investigate the "very nasty person" email to see if Peterson violated any applicable policies and look into whether Peterson has a history of "dismissive and/or inappropriate emails" about others, saying people should be able to provide their input without being personally attacked. 
As of March 10, she hadn't gotten a response. 
'A pattern of problematic behavior'
In the days since, parents have been commenting on MCEE's Facebook post about the email with stories about Peterson calling them names and dismissing concerns they were raising, not just about Perucco but other topics as well. 
"Since the School Board has not been willing or able to do this itself, the MCEE has offered to be a sounding board for other Minnetonka schools community members who have been treated with disrespect by the board or by Dr. Peterson," Browne of MCEE told BMTN via email on March 8. "Feedback received thus far shows a pattern of disrespect from Peterson toward those who don't agree with his views, and a pattern of inaction from the board when these issues are brought to them."
One other parent says Peterson called him "very nasty" via email in what appears to be another incident of the superintendent mistakenly sending his thoughts to the wrong person. 
Dan Olson, who has two kids in elementary school in Minnetonka, told BMTN he emailed Peterson about the COVID-19 pandemic last fall following the remarks Peterson made during the August School Board meeting in which he compared COVID-19 to the flu. Olson said it's the first time he's felt the need to reach out to the School Board about anything.
"This person has been very nasty throughout the process, going back to August," the Nov. 15, 2020, email from Peterson said.
Related [Aug. 10, 2020]: Minnetonka superintendent under fire after comparing COVID-19 to flu
"My communication with Dr. Peterson and the Board has all been pandemic related. I have a serious problem with the person in charge of setting educational priorities for my children diminishing the severity of a pandemic and citing demonstrable falsehoods to do so," Olson said, noting his children have been distance learning all year because he doesn't trust the district after the superintendent's comments. "And I have a problem with a School Board that refuses to publicly rebuke such statements or correct them in any form. 
"I made these feelings known to both Dr. Peterson and the Board at the time, and continued to chime in throughout the fall as pandemic numbers worsened, worried that the district wouldn't be using the most up-to-date data possible when making their decisions," Olson told BMTN. 
Olson said the response from Peterson was "clearly intended as internal Board gossip about a parent." He responded to Peterson and the School Board in writing, "expressing my sympathy for what a hard and difficult year it's been for them, as well as confronting them about choosing to belittle me behind my back instead of attacking the substance of my argument."
"Not a single person replied," Olson said. 
When asked about his reaction to Peterson's name-calling, Olson said, "This is the kind of mistake we can all make, and we're all imperfect and our frustrations can get the better of us. But in a professional setting, this is the kind of mistake you make once in an entry-level position, and then you learn your lesson ...  Although I don't know Dr. Peterson personally, after his comments about COVID-19 earlier in the year and the general dismissal of safety concerns presented by parents and teachers, it certainly wasn't surprising."
Olson said he "didn't make a big fuss at the time" about Peterson's "very nasty" comment because he hadn't heard of any other incidents like this involving Peterson. Until last week.
"It was only after hearing about Heidi Calhoun-Lopez being insulted in almost exactly the same manner that I realized this is a clear and demonstrable pattern of problematic behavior," Olson said. 
District responds, parents have hope for the future
When asked about claims of Peterson being dismissive toward parents' concerns, the School Board said in a statement to BMTN:
"Dr. Peterson is an outstanding, child-centered leader, and he has the full support of the School Board. There are certainly times that the leader of an organization cannot share information about a situation, that the timing is wrong to provide more details or that the message sent to the leader is aggressive, and therefore a more direct or frank response is provided. That does not mean the leader is dismissive or does not care."
Going forward, Olson said he'd like to see more transparency, community engagement and constructive dissent happening between the board, the public and the superintendent during School Board meetings.
"As it stands, the board feels like it exists solely as a pro forma stamp of approval for Dr. Peterson's agenda. I would like to see this become a forum for active debate, where the Superintendent isn't attacking his constituents, but where everybody is transparently attacking the substantive arguments as we all work to prepare this district for the middle part of the 21st century," he said.
"I certainly believe there's a place for internal debate between board members and the superintendent, but I believe those communications should be a matter of public record, and I believe right now we see little to no debate at all."
Olson said he wants his children to go to a school where teachers like Perucco feel supported by the district "when they choose to devote a few minutes to broadening our understanding of history and the people that changed this country."
"For our society to grow and move forward, our children need to — and are fully capable of — [having] serious, thought-provoking discussions; we should not limit their capacity to learn because we mistake our own comfort level for a barometer used to determine what is and isn't appropriate," Olson said. 
Olson only just started paying attention to "district politics" and he hopes other parents have started to as well, saying they are the ones who get to decide on the type of district they want for their children through who they vote for. 
"And I hope we choose to build a district that is compassionate, responsive, and open to new ideas," he said. 
District also at odds with Minneapolis Parks Board
While parents have said the district isn't easy to communicate with and are concerned with what they say is met with a lack of respect from Peterson, so are others. 
The Minneapolis Park and Recreation Board (MPRB) is battling it out with the district over two artifacts that were stolen from a war memorial at Bde Maka Ska and were discovered last spring by Southwest Journal reporters Karen Cooper and Zac Farber in the halls of Minnetonka High School. 
The MPRB has been trying to get the artifacts back, with a Star Tribune story noting state lawmakers are now involved, asking Peterson and the district to communicate with the park board. In the story, Peterson says the MPRB isn't easy to communicate with, but park board members say it's actually the other way around.
Here's a tweet from MPRB President Jono Cowgill on March 10: