Fatal police shooting sparks civil unrest in Brooklyn Center
A robust presence of police and National Guard will be seen Monday.
The fatal police shooting of a 20-year-old Black man in Brooklyn Center on Sunday led to the city's mayor ordering a curfew and local schools closing Monday as a precaution. 
Mayor Mike Elliott issued the curfew order until 6 a.m. Monday, saying that while the entire community is "filled with grief" in wake of Daunte Wright's death, community members are peaceful: "We want to make sure everyone is safe. Please be safe and please go home."
The City of Brooklyn Center says it will hold a press conference at 11 a.m., with many unanswered questions remaining about Wright's shooting.
Protesters by the hundreds gathered outside the Brooklyn Center Police Department Sunday night, where they were met by police dressed in riot gear. 
Around 10 p.m. the department issued a dispersal order for unlawful assembly, and when protesters didn't leave they were pushed off the police department's property with rubber bullets, flash bangs and tear gas. Minnesota Department of Safety Commissioner John Harrington claimed that rocks and other objects had been thrown at police.
Amid the large law enforcement response to the Brooklyn Center Police Department, groups of people began looting businesses elsewhere in the city, namely the Walmart and a strip mall located near the intersection of Hwy. 100 and Shingle Creek Parkway, about two miles away from the police station.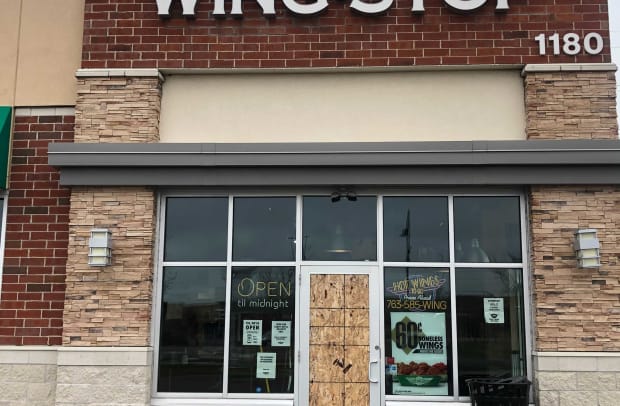 T-Mobile, Rue 21, Discount Tire, and Five Below were among the businesses along Shingle Creek Parkway that were looted. Harrington said there were approximately 20 businesses that were broken into. 
KARE 11's Dave Peterlinz tweeted that he "witnessed three people, one with a shotgun, looting a store at Lake & Portland" in Minneapolis, noting that "at least two shots were fired." 
By midnight, soldiers from the Minnesota National Guard had been deployed to the area, though looting happened in the early morning hours of Monday in Minneapolis and St. Paul. 
"You will see a robust assortment of National Guard, state and local police departments working together over the next two or three days," said Harrington. 
Law enforcement presence in the Twin Cities was already extensive in anticipation of police-community tensions stemming from the ongoing trial of former Minneapolis police officer Derek Chauvin stemming from the May 2020 death of George Floyd. 
Dr. Carly Baker, superintendent of Brooklyn Center Community Schools, announced that classes for all grade levels will be held via distance learning on Monday, while all after school activities have been canceled. Baker said the decision was made out of an "abundance of caution." 
Gov. Tim Walz tweeted that he is "closely monitoring the situation" and "praying for Daunte Wright's family as our state mourns another life of a Black man taken by law enforcement."
Officers at nearby Brooklyn Park Police Department said shots were fired at its building just before 8 p.m. Sunday, shattering glass in its lobby.