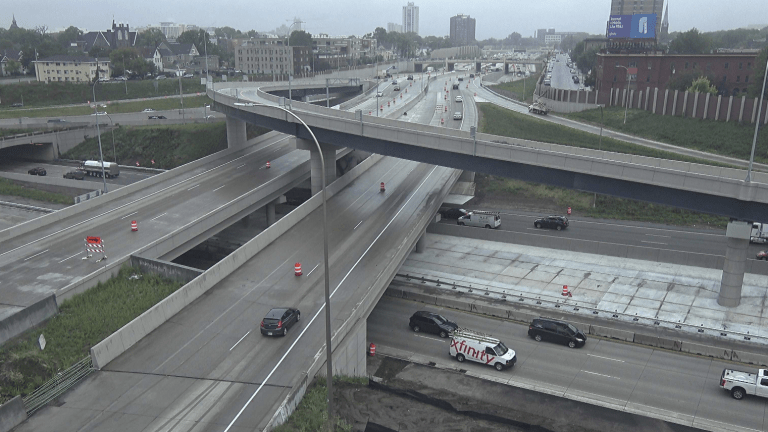 Final overnight closures mark end of yearslong I-35W project
After Sept. 10, only small things are left to do on the four-year project.
The end of the Interstate 35W project in Minneapolis is nearing the finish line. 
After some overnight closures next week, all lanes, ramps and bridges involved in the project will be open by the end of the day on Friday, Sept. 10, and the four-year project will be considered "substantially complete, Kristin Blaha, a spokesperson for MnDOT, told Bring Me The News on Friday. 
"There will still be some small, miscellaneous things that will need to be finished, but they shouldn't cause significant traffic disruptions," Blaha said. 
The $239 million Interstate 35W/Interstate 94 project in Minneapolis began in August 2018 and involved replacing 11 bridges, building a new ramp from I-35W south to Lakte Street and from I-35W north to 28th Street, installing new concrete on the 2.5 miles of roadway, building E-Z Pass (MnPASS) lanes and a bus station, and adding wider and more accessible pedestrian bridges. 
Follow Bring Me The News on Twitter for the latest breaking news
Overnight closures
Construction crews will be doing the final striping on I-35W next week, which will force overnight closures for the safety of the workers. 
The first closure will be from 10 p.m. Wednesday, Sept. 8, to 5 a.m. Thursday, Sept. 9, on southbound I-35W between Interstate 94 and Highway 62. 
The second closure will be from 10 p.m. Thursday, Sept. 9, to 5 a.m. Friday, Sept. 10, on northbound I-35W between Highway 62 and Interstate 94. 
Motorists will be detoured to use Highway 62, Highway 100 and Interstate 394 for both closures. 
After crews are done with the final striping, some ramps will begin to reopen to traffic. 
All ramps and lanes are expected to be open for traffic by the end of the day on Friday, Sept. 10, MnDOT says.