Pictures: Aftermath of unrest following fatal police shooting in Brooklyn Center
At least 20 businesses were damaged.
Break-ins and looting caused significant property damage at numerous businesses in Brooklyn Center late Sunday night – which happened a few miles away from where police were responding to protesters after the fatal police shooting of 20-year-old Daunte Wright. 
As of 10 a.m. Monday, the alarm inside T.J. Maxx located at 1300 Shingle Creek Crossing was still buzzing as workers cleaned up glass outside and boarded up windows. 
Cleanup happening at nearly every business in the Shingle Creek Crossing shopping hub, as all stores were closed following a night of civil unrest. The only people in the vast parking lot were people cleaning up, some members of the media and National Guard troops and local police who were monitoring the scene. 
Damage estimates are unknown at this point, but most businesses at Shingle Creek Crossing were affected, which is located near Hwy. 100 and Bass Lake Road. 
Among those responding to the looting during the overnight hours was Ramsey County Sheriff Bob Fletcher, who posted a handful of photos to his Facebook page and commented that it was a "disappointing night." 
Brooklyn Center damage photos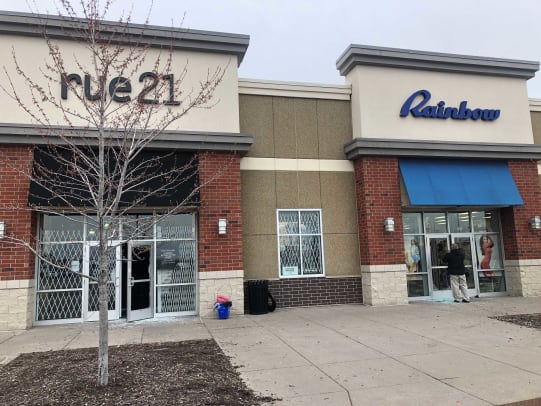 Minnesota Department of Public Safety Commissioner John Harrington, speaking very early Monday morning, said approximately 20 businesses were damaged. 
Unofficial list of Brooklyn Center businesses that were damaged: 
Aspen Dental
Icon Beauty Supply
Verizon
Wing Stop
Caribou Coffee & Einstein Bros. Bagels
Kids Foot Locker
Foot Locker
T-Mobile
Boost Mobile
AT&T
Tracy Nails
To New York Men's Clothing
T.J. Maxx
rue21
Rainbow
Discount Tire
Brooklyn Center Liquor
Hair Plus Wigs
Five Below
Walmart
Game Stop
Many of the businesses that were unaffected, including TCF Bank, Bank of America, HOM, and L.A. Fitness, were boarding up windows on Monday in the event that more civil unrest becomes violent. 
Property damage was also reported in parts of Minneapolis and St. Paul, including the Target in Uptown. Businesses there are also boarding up as a precaution. 
More National Guard soldiers are expected to arrive in the Twin Cities on Monday to enhance support and protection of property in the even that things escalate again. Five-hundred troops were already in the Twin Cities to add protection and security for the trail of Derek Chauvin, the former Minneapolis cop who is charged in the killing of George Floyd.