Gallery: New images released of giant Mall of America water park
The City of Bloomington approved the development plan on Monday.
The giant water park adjoining the Mall of America moved one step closer to reality on Monday.
Bloomington City Council approved the zoning and building plans for the sprawling, 330,000-square-foot water park that would be connected to the megamall with a bridge over Lindau Lane.
The entire project is expected to cost in the region of $250 million, and when completed the water park would be one of the largest in North America.
It would be built on a large portion of the surface parking lot located north of the Mall of America, on land owned by MOA owner Triple 5, and would be joined by a 1,720 stall parking ramp to the east of the waterpark, access to which would be via a newly-constructed "private ring road."
Revised images of the proposed development were released ahead of Monday's meeting, courtesy of Ryan Companies and architecture firm DLR.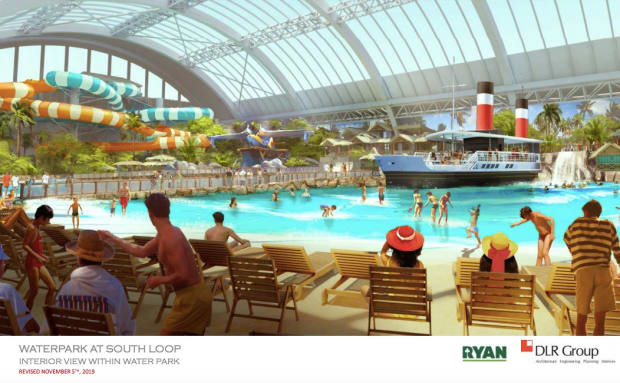 Development unusual for its financing arrangements
Under the plans being considered by the council, construction of the waterpark would actually be carried out by a Louisiana-based nonprofit called Provident Resources Group, which specializes in "large, publicly-financed projects."
The nonprofit in turn will use tax-exempt bonds issued by the Arizona Industrial Development Authority (AZIDA) to fund the project, as the Star Tribune reported in October.
Provident would then own the park, which would make the land exempt from property taxes, with the waterpark then operated by an affiliate appointed by the Mall of America, which would pay rent to the MOA for use of its land.
The City of Bloomington says the waterpark should operate at no cost to local property taxpayers, and in the event that the waterpark does not turn a profit, a 1 percent sales tax will be imposed on accommodation, shopping and recreation at the Mall of America, and 3 percent on food and drinks, to make up the shortfall.
The City of Bloomington however is on the hook for the $55 million required to build the parking ramp and sky bridge connection.
The financing and development agreements will be considered by the council and Bloomington Port Authority at a meeting in the first quarter of 2020.