Gallery: Storms leave path of destruction across Minnesota
Damage from high winds, flooding and possible tornadoes.
UPDATES
Damage assessments conducted by the National Weather Service have confirmed that tornadoes are to blame for damage in Granada, Morristown and Faribault. 
Crews are out and about on Friday with more damage assessments expected for cities hit by destructive storms. 
Ratings on the intensity of each tornado will be provided in time, the NWS says. 
Original story 
Severe storms and possible tornadoes left a path of destruction in southeast Minnesota on Thursday, hammering a stretch from Mankato all the way to Red Wing and into western Wisconsin. 
the areas hardest hit include Waterville, Morristown, Faribault, Dundas, Northfield, Dennison and Cannon Falls. 
BMTN's Joe Nelson was tracking the storms with professional storm chasers Tim and Katie Purington and was in Waterville when the storm hit. Their vehicles were pounded by intense winds and they were able to snap a photo of what appeared to be a tornado on the north side of town. 
The National Weather Service will conduct damage assessments on Friday to determine if any of the damage was produced by a tornado. 
"There are still numerous power lines, trees and debris on the ground. At this time we are asking people not to walk or drive through areas that are not theirs and to use extreme caution," the Rice County Sheriff's Office wrote late Thursday night on Facebook. 
The west and north sides of Faribault took a devastating blow from the storm. The airport took what might've been a direct hit from a tornado, with significant damage to multiple hangars, planes flipped and sheet metal twisted and wrapped around trees and power poles. 
Fortunately, no injuries were reported despite the extensive damage. 
"We are happy there were no injuries. Our responders did great work despite the difficult weather conditions," said Faribault Fire Chief Dustin Dienst. "We appreciate the public's cooperation and ask for their patience during recovery."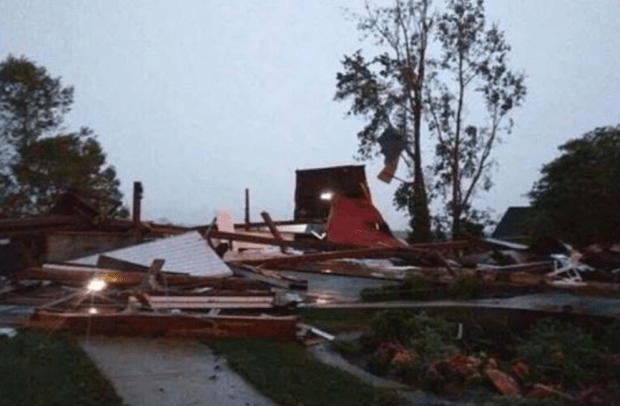 At least one business in Northfield – Red Barn Pizza – was leveled by the storm. 
Its path continued northeast at about 65 mph and produced more damage in Medford, Kenyon, Zumbrota, Goodhue, Cannon Falls and Red Wing, among other surrounding cities before finally weakening once it crossed into Wisconsin.  
Meanwhile, localized flash flooding occurred in the Twin Cities, with water in the New Hope area rising halfway up car doors, flooding streets and yards before finally receding after the rain came to an end after 8:30 p.m.