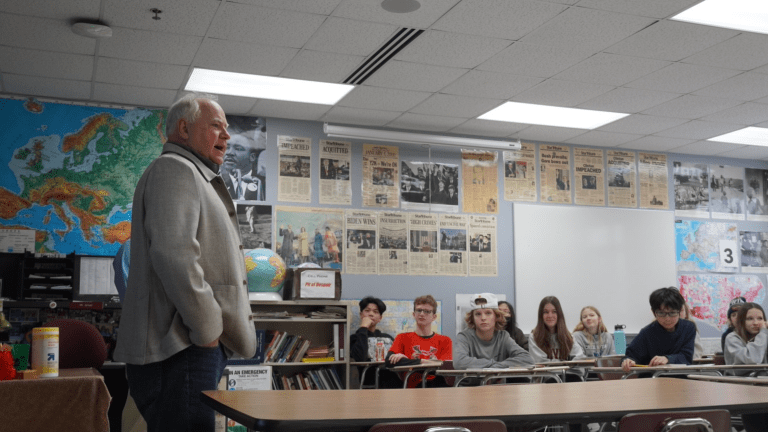 Gov. Tim Walz proposes child tax credit, historic education investments
Minnesota school districts would see a major funding boost under the proposed plan.
Gov. Tim Walz unveiled a $12 billion proposal Tuesday that would provide the largest public education investment in state history and lower the cost of childcare for many Minnesotans. 
The package is one of four components within Walz's two-year state budget proposal, which will be released in its entirety on Jan. 24. 
The series of spending proposals announced Tuesday aim to "make Minnesota the best state in the country for kids," according to the governor's office. 
"For a middle-class family with young kids, this budget would cut the cost of child care by thousands," Walz said in a statement. "For kids across the state, it will reduce their chances of living in poverty. And for our students, it will provide the single-largest infusion of state funding in history, allowing them to provide every student, in every neighborhood, a world-class education."
An expansion of the state's child and dependent care tax to include qualifying child care expenses is among the proposals included in the plan. 
According to the Walz administration, the measure would reduce childcare costs for more than 100,000 additional households. 
A family earning less than $200,000 with two children, for example, could receive up to $8,000 back for qualifying expenses. 
The plan also proposes a child tax credit, which would give lower-income families $1,000 per child, up to $3,000. The credit would be available to families with a household income of less than $50,000.
For Minnesota schools, Walz is calling for a 4% increase to the general education funding formula next year and 2% increase the following year. 
Those increases to the state aid formula would amount to a $717 million investment in 2024-2025 and a $1.48 billion investment in 2026-2027.
An $800 million plan to provide free school meals for all students and $158 million for mental health services are among Walz's education spending proposals. 
Walz's education budget also proposes to reduce the special education cross subsidy by 50%, which would greatly help school districts cover the rising costs associated with the services, and free up funding for day-to-day school costs. 
Also in the spending proposal is a pitch to create a new state agency, which would be called the Department of Children, Youth and Family. 
The new agency would begin operations in 2024 and oversee a wide variety of supports for Minnesota kids and families. 
The final two-year spending and tax plan will be negotiated with state lawmakers. Democrats in control of both the House and Senate have also identified education spending and economic relief for families as top priorities.