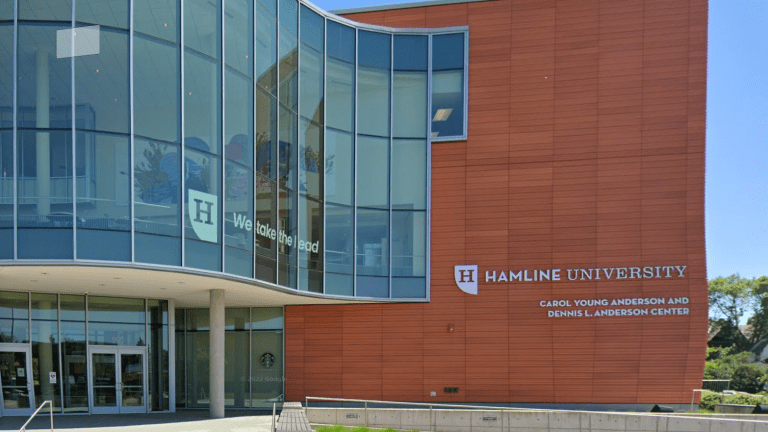 Hamline University at the center of far-reaching debate over academic freedom
The private institute in St. Paul continues making headlines around the globe.
A controversy at Hamline University has sparked a global debate over free speech, academic freedom, and what's considered Islamophobic.
The debate surrounds the response of university officials after a student in a global art history course complained about being shown a depiction of the Prophet Muhammad.
Following the student's complaint, school officials decided not to ask then adjunct professor Dr. Erika López Prater back for another semester, the New York Times reported. 
López Prater included advanced notice about the image in the course syllabus and again warned students before displaying the 14-century painting during an online class, according to the NYT. No students reached out to López Prater to voice concerns. 
The course syllabus, reviewed by MPR News, stated the course would introduce students to several religious traditions and the visual cultures they've produced historically, which would including showing depictions of holy figures, including the Prophet Muhammad. 
"If you have any questions or concerns about either missing class for a religious observance or the visual content that will be presented, please do not hesitate to contact me," the course syllabus stated. 
Hamline student Aram Wedatalla said she was shocked by the professor's decision to show the image, which Wedatalla claims disrespected her and her religion. 
"I was extremely hurt and disappointed by the actions of the professor and I couldn't bring myself to return to that class ever again," Wedatalla said at a press conference Wednesday hosted at the Minneapolis headquarters of the Council on American Islamic Relations (CAIR-MN),
Wedatalla, a senior, is the president of the university's Muslim Student Association.
"I'm 23 years old, I've never seen a picture of a prophet — never in my whole life" she said through tears. "It hurts, it breaks my heart to stand here to tell people and beg people to understand me. To feel what I feel."
CAIR-MN executive director Jaylani Hussein said such images are widely considered sacrilegious and hate speech within the Muslim community.
"It's not only hateful and forbidden, but it also goes to attack the core beliefs of our faith," he said during Wednesday's press conference. 
In an interview with MPR News, López Prater said she didn't mean to offend anyone and she felt it was important to include art that represents Islam. 
"You can't erase history and I think it is actually important that we teach and demonstrate the internal diversity within the history of Islam which is a very, in my opinion, underrepresented and misunderstood religion," she told MPR News, adding she plans to teach at Macalester College in the spring. 
While CAIR-MN has commended Hamline leadership for their handling of the incident, many academics and others have condemned the actions of university leadership on the basis of academic freedom. 
In a commentary for the Minnesota Reformer, Metro State University professor Doug Rossinow compared the actions of Hamline leadership to the conservative influence over education in Florida under Gov. Ron DeSantis. 
On academic freedom, he writes: "It won't be defended, at least not successfully, in selective fashion."