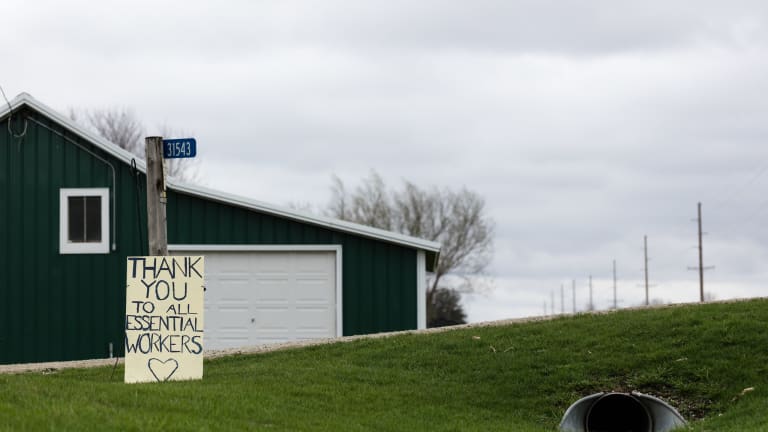 Highest county case rates in Minnesota remain in rural areas
Just one of the seven metro counties have a case rate above 30.
COVID-19 case rates increased in 49 of 87 Minnesota counties in the weekly statewide report released Thursday, with the highest rates generally located in greater Minnesota, specifically northwestern, west-central and far southern areas. 
County case rates are based on the number of confirmed cases in a week per 10,000 people. The latest data represent positive cases Sept. 5-11, for which there are 26 counties with case rates above 30. Anything over 10 is a signal that there is widespread community transmission. 
Koochiching: 53.8 cases per 10,000 people
Mahnomen: 50.9
Steele: 49.9
Freeborn: 47.8
Wadena: 45.4
Waseca: 43.1
Stevens: 42.9
Cass: 41.7
Pennington: 40.2
Beltrami: 37.9
Big Stone: 37.9
McLeod: 37.7
Fillmore: 37.3
Benton: 36.2
Sibley: 35.5
Watonwan: 34.6
Chisago: 33.8
Clay: 33.0
Dodge: 33.0
Mower: 32.6
Becker: 32.0
Grant: 32.0
Hubbard: 31.2
Polk: 30.4
Faribault: 30.2
Scott: 30.0
Case rates in the seven-county Twin Cities metro area also indicate widespread community transmission is ongoing, but not at the levels seen in the aforementioned rural counties, with the exception of Scott County. 
Scott: 30.0
Carver: 24.9
Anoka: 24.3
Washington: 20.4
Dakota: 19.6
Hennepin: 16.8
Ramsey: 15.4
On Thursday, the latest figures from MDH shows that only 37.5% of new COVID cases came from the 7-county Twin Cities metro, which comprises 55.5% of the total population of Minnesota.
Vaccination isn't the only variable that can affect case rates – population density and having high transient working/tourist populations are others, for example. But it is worth noting that all seven metro counties are among the top 11 counties with the highest vaccination rates.
The top 11 counties for vaccination rates among those aged 12 and up: 
Olmsted 84.5%
Washington 79.9%
Hennepin 79.3%
Dakota 79.0%
Carver 78.8%
Cook 78.2%
Scott 75.9%
Ramsey 75.7%
Lake 71.2%
Carlton 70.0%
Anoka 69.9%
But there are counties with low vaccination rates and relatively low COVID rates too.  
Clearwater County, which has the state's lowest one-dose vaccination rate at just 42.9% of its 7,400 eligible residents, has a rate of 20.9 cases per 10,000 residents and has floated between 9 and 26 cases per 10,000 over the past month. 
That said, an even smaller county than Clearwater (in terms of population and density) is Cook County, which has one of the highest vaccination rates in the state (78.2% of over 12s). Over the past five reporting cycles, its COVID case rate has been 7.5, 15.1, 11.3, 13.2 and 5.6 per 10,000 people.
The same goes for Lake County, which has more than 71% of its 12+ population at least partially vaccinated. Its past five weekly case rates are 9.5, 5.7, 6.6, 6.6 and 13.2. 
You can find more vaccination rates here. And for the full county case rate report from the MDH, click here and open the link that says "Weekly Case Rate by County of Residence."