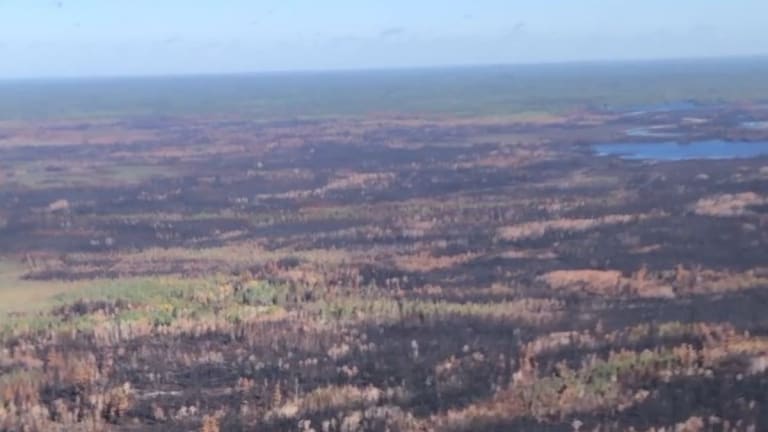 Highway 1 reopens as Greenwood Fire is 80% contained
The highway has been closed for about a month.
After being closed for about a month due to the Greenwood Fire, Highway 1 in northern Minnesota has reopened to traffic. 
The roadway reopened to traffic on Monday. However, state officials are urging motorists to use caution as fire suppression efforts continue in the area.
The Greenwood Fire, which started with a lightning strike in the Superior National Forest about 10 miles southwest of Isabella on Aug. 15, is now 80% contained, the Forest Service says. The blaze impacted about 26,797 acres and destroyed 14 primary structures and 57 outbuildings.
Improved weather conditions have aided in containing the fire and have reduced the risk for wildfires, prompting the Forest Service to list fire restrictions across the Superior National Forest and the Boundary Waters Canoe Area Wilderness (BWCAW) management area. 
This means visitors can once again have campfires at designated fire grates in the BWCAW and at rustic and backcountry campsites in the Superior National Forest. The use of tiki torches, charcoal grills, barbecues and other stoves is also now permitted. 
The Minnesota DNR on Monday also removed wildfire-related burning restrictions in Cook and Lake counties, the last two counties that still had DNR-mandated burning restrictions.
"Weather and rain have finally cooperated and the forest feels confident it is safe to fully lift fire restrictions at this time. While the window for fire risk is closing, it's not entirely shut. We ask that our visitors practice vigilance and ensure campfires are fully extinguished before leaving them unattended," Chase Marshall, fire management officer for the Superior National Forest, said in a statement on Sept. 17. 
While weather conditions have lessened the chances for wildfires, there is still a chance for fires to spark, especially if we experience any hot, dry days. Because of this, the Forest Service urges precautions and requests that people fully extinguish their campfires and only start fires at designated sites.