Highway 67 closed till 2020 after shifting earth causes road to crack
The road has continue to shift since cracking was first noticed in April.
Highway 67 southeast of Granite Falls will stay closed until 2020 after major cracks have developed in the road.
The Minnesota Department of Transportation says the highway will be closed between the entrance to the Upper Sioux Agency State Park entrance and 600th Street, just west of the Yellow Medicine River Bridge.
The department says that portions of the roadway have been shifting since April 4, causing "several significant drops in the driving lane."
Pictures of the affected area from last month show huge and deep cracks in the road, which have grown significantly larger since the cracking was first noticed.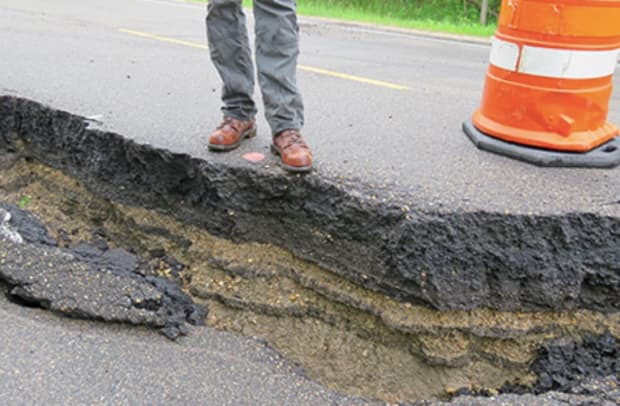 "Since the closure, MnDOT has implemented an investigation plan and has been using instrumentation to measure the depth of movement below ground. Groundwater depth and saturation levels are also being monitored.
"The embankment has moved at a consistent rate, approximately one inch per day at the main pavement crack. There is significant movement at 50 feet beneath the road surface."
MnDOT says that before it can consider options to stabilize the subsidence and see whether it's feasible to re-open the road, it will need to conduct additional monitoring and slope stability modeling.
Drivers are being diverted through Hwy. 23, Hwy. 274 and County Road 18 until further notice.