Huge cattail marsh fire breaks out at Veterans Park in Richfield
Four acres of the park burned on Friday night.
A huge fire broke out at Veterans Park in Richfield Friday night, but local officials say the park's amenities have been spared.
The Richfield Fire Department says it was called just before 9 p.m., with the caller saying a fire had broken out in the northeast section of the park.
The city says this area of the park is predominantly wetlands, which includes a cattail marsh that's around four acres in size.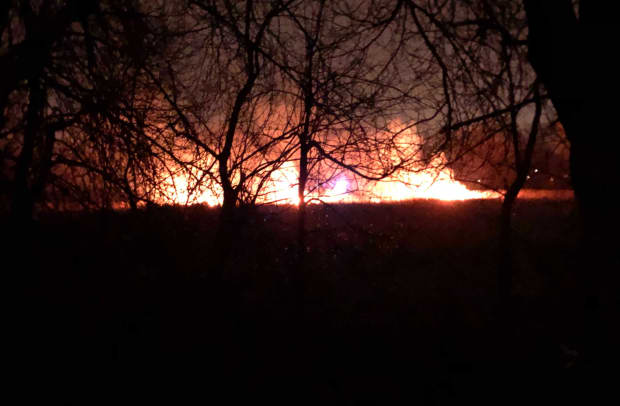 With Richfield Fire Department aided in the effort by firefighters from Edina, Bloomington, and St. Louis Park, Fire Chief Mike Dobesh says they were able to "deploy a plan that allowed us to limit the damage to the natural areas of the park."
As such, there was no damage to the park's pedestrian bridges, floating bridge, recreation buildings, or playground equipment.
Just after midnight, the city said the fire had been contained and was being allowed to burn out under supervision.
"Most people do not realize how tricky a cattail fire can be to get under control," said Recreation Services Department Director Amy Markle in a news release. "The RFD's quick response protected not just the park structures, but also possibly the surrounding neighborhoods and highway."
Much of Minnesota has been under a Red Flag warning owing to a combination of a dry spell of weather combined with strong winds.
The latest forecast from Novak Weather