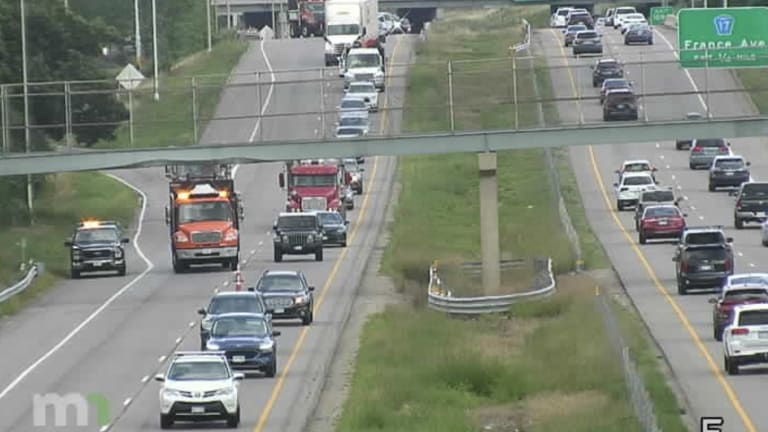 Hwy. 62 westbound closing in Edina this weekend to repair damaged bridge
The bridge was hit by a truck in August and another in January.
Highway 62 will be closed westbound in Edina this weekend as Minnesota Department of Transportation workers fix a pedestrian bridge two trucks struck last summer.
MnDOT says westbound traffic will be shut down between France Avenue and Hwy 100 from 10 p.m. Friday through 5 a.m. Monday.
A commercial truck hauling a dumpster of metal beams smashed into the bridge on Aug. 16, 2022 (photo above). Before that, another truck hit it on Jan. 27, 2022. 
The August incident closed a section of the highway for more than a day. The impact of the collision sent debris flying, hitting another vehicle. The driver of the August incident was cited for the damage in August, according to FOX 9.
"This closure is necessary so crews can erect the span for the new pedestrian bridge over Hwy 62," MnDOT said in an announcement on Tuesday.
Motorists planning to use the westbound lanes will have to use a detour in the southbound lanes of I-35W to westbound I-494 to northbound Hwy. 100.
All construction and traffic impacts are weather dependent and subject to change, MnDOT notes.