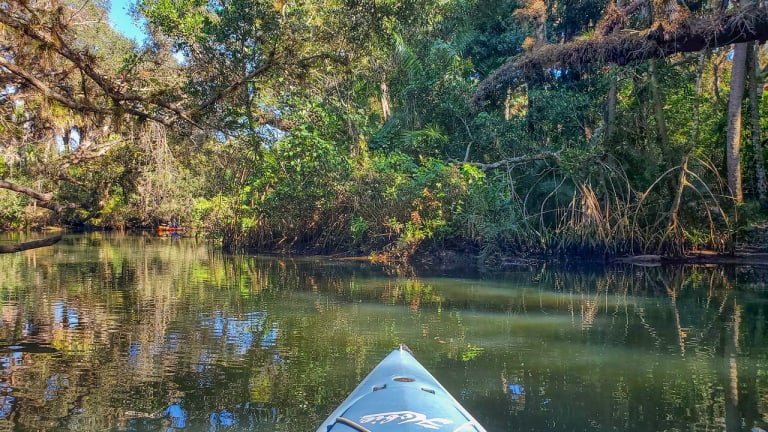 Kayaking family of 4 rescued after becoming stuck in downed maple tree
They're "lucky to be alive," a DNR conservation officer said.
Two adults and two children out for a family kayaking trip wound up in a scary situation over Labor Day weekend when they became stuck in a downed tree,
The group was out kayaking on the Minnesota River near Le Seuer the afternoon of Sept. 4 when they ran into a large delta that created a narrow channel for travel, near where it connects to the Rush River, according to the Minnesota Department of Natural Resources (DNR). A maple tree had fallen into the thin channel — but the family thought they could safely get around it.
Instead, their kayaks went under the water and they became trapped in the toppled tree.
DNR conservation officers James Fogarty and Brent Ihnen responded to the emergency call.
Related [July 13]: Bear briefly becomes armed after stealing camper's gun in Boundary Waters
At the scene, they found two of the kayakers had made it to the sandbar in the middle of the river. The two other family members were still tangled in the maple, clinging to the tree amid fast-moving water, and were unable to get out on their own.
Fogarty and Ihnen, in a boat together, navigated the current and managed to reach the kayakers in the tree, helping them on to the rescue boat.
At the same time, a third conservation officer, Chris Howe, arrived and rescued the two other kayakers stranded on the sandbar.
All four of the family members were brought safely back to shore, but the officers could only recover one of the kayaks. The other three were stuck under the tree, inaccessible due to the strong current.
Follow Bring Me The News on Twitter for the latest breaking news
The DNR said the family of four had just two life jackets between them, with Fogarty nothing they are "lucky to be alive."
"Thankfully, this incident had a positive ending but it certainly reinforces the need for everyone to have life jackets on the water with them — and to wear them," the DNR said.