Large fire marks 92nd time St. Paul Fire has responded to Kellogg Park in 2020
The fire happened at a homeless encampment.
A large fire at a homeless encampment in St. Paul early Friday morning was likely the result of open flames for heating being too close to easily combustible materials. 
According to St. Paul Fire Department, the fire was reported at 60 Kellogg Blvd. E. at 2:06 a.m., with the department describing it as a "large fire" that destroyed approximately seven tents. No injuries were reported. 
"The fire is under investigation but is presumed to be accidental. Investigators suspect the use of open flames for heating near easily combustible material as the potential cause of the fire," the department said. 
Putting out the blaze required 30 firefighters from five different companies, in addition to two ambulances responding to the park. 
St. Paul Fire notes that it has responded to Kellogg Park for 17 fires and 75 emergency medical calls so far in 2020. 
Fire at St. Paul homeless encampment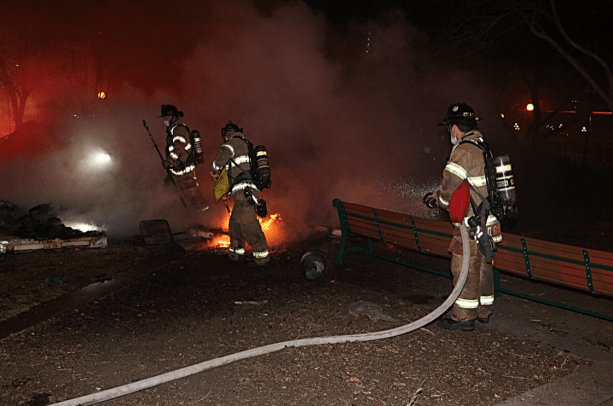 It comes after a year that has seen many challenges facing the homeless population, with services strained and more people finding themselves in financial difficult because of the COVID-19 pandemic, and a number displaced across the Twin Cities following the civil unrest in May.
Homeless shelters had to reduce capacities earlier in the year in order to ensure social distancing between clients to limit the spread of the virus.
Last month, St. Paul announced it was looking to open two temporary shelters in park buildings to house homeless people during the winter months.