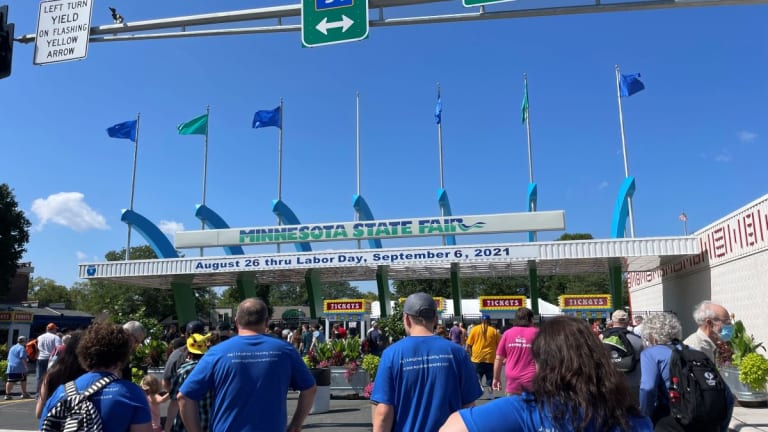 Police: Large group, armed man attempted to 'storm' State Fair entrance
The incident happened minutes after the ticket booths closed.
A large group of people, including a man with a gun, tried to "storm" an entrance to the Minnesota State Fair Monday evening, according to police.
The group attempted to "storm" the gate at Snelling and Midway Parkway (near the Creative Activities building) at 8:04 p.m. on the final day of the State Fair, the Ramsey County Sheriff's Office said. 
"They were repelled by security personnel and Ramsey County Sheriff Deputies. Hand held chemical agent was deployed by sheriff staff to disperse the group and secure the entrance," the sheriff's office added. 
People at the fair weren't allowed to leave during the incident, which lasted about 20 minutes, according to Ryan Stanzel on Twitter. 
Ticket booths for the fair closed at 8 p.m. Monday, while the fairgrounds closed at 9 p.m. and the Midway closed at 10 p.m., ending the 12-day run of the Great Minnesota Get-Together. 
No other details about the incident have been released. 
Follow Bring Me The News on Twitter for the latest breaking news
It's the second consecutive time there was a security incident outside the main gates on the last night of the fair. In 2019, three people were shot outside the main entrance shortly after a woman was struck by a passing vehicle.
The Ramsey County Sheriff's Office provided the security for this year's State Fair, which comes after the State Fair's own police force was dismantled following the retirement of long-serving chief Paul Paulos.
Note: Some of the details provided in this story are based on the law enforcement's latest version of events, and may be subject to change.