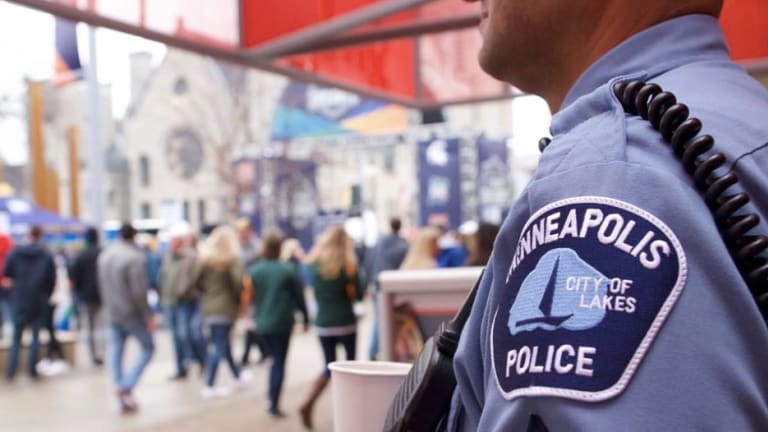 Lawsuit: Minneapolis woman says 2 MPD officers caused brain injury
The incident happened during the protests for Winston Smith in 2021.
A woman is suing two Minneapolis police officers, claiming they caused a brain injury by knocking her to the ground during a protest over the police killing of Winston Smith in 2021.
Amy Bligh, a licensed drug and alcohol counselor, alleges she was shoved by officers Nicholas Anderson and Andrew Ruden on June 4, 2021 in the Uptown neighborhood, hitting her head on the pavement. She suffered a gash to her head that had to be stapled shut, and led to thousands of dollars in medical expenses and lost wages.
The lawsuit was filed on Thursday in federal court on the 46-year-old's behalf, claiming excessive force was used by Anderson and Ruden. Bligh also claims the two violated her civil rights.
According to the court filing, Bligh bought around $300-worth of pizza and bottled water for protesters and was participating in a "peaceful protest." Shortly after the pizza arrived, a swath of MPD officers showed up on bicycles. 
The officers lined up and began to advance towards protesters, "demanding they move back and physically moving them back," the lawsuit reads.
Bligh attempted to grab her things, which included the water and pizza. However, the officers got between her and the items and ignored her requests to retrieve them. The filing claims Bligh complied and continued walking away from the officers.
Bligh turned around to say something while walking and "both Anderson and Ruden pushed Bligh in the chest or upper arms causing her to topple backwards, fall down and strike her head hard, knocking her unconscious and leaving her bleeding on the street."
The lawsuit reiterated that Bligh wasn't a threat during the interaction with authorities.
Bligh also wasn't given immediate aid while she was on the ground. The injury required about 12 staples and Bligh was diagnosed with a traumatic brain injury. She was hospitalized for two days and discharged from the Hennepin County Medical Center on June 6, 2021.
According to the lawsuit, Bligh incurred over $23,000 in medical bills relating to the incident.
Anderson and Ruden allegedly filed "false and misleading" police reports on the matter, claiming "Bligh raised her right hand in a fist and somehow appeared threatening to them." Despite the report, no charges were filed against Bligh.
Bligh and her attorneys are seeking to claim punitive damages caused by the two officers. An official amount will be determined later as a jury trial has been demanded in the case.
"This suit is about holding the defendant officers accountable for using force against a peaceful protester — there was simply no reason for them to push Ms. Bligh down. Unfortunately, we have seen a pattern of the Minneapolis Police Department magnifying local tragedies by injuring individuals peacefully demonstrating against police injustice," said Ryan Vettleson, one of the attorneys representing Bligh.
A city spokesperson provided the following statement to Bring Me The News on Friday:
"The City Attorney's Office just learned of the lawsuit and is reviewing the Complaint."
The city and its police department have faced a multitude of lawsuits dating back to 2020-2021 over protests surrounding the police killings of Smith and George Floyd. The most recent settlement reached was $600,000 to 12 protesters injured at the Floyd protests in 2020.
The Minnesota Department of Human Rights found through a two-year investigation the police department had engaged in an unlawful "pattern or practice of race discrimination" over a period of at least a decade, and found the city's response to the civil unrest of 2020 to be uncoordinated, disorganized and plagued with poor communication.
Hennepin County prosecutors said MPD officers are "much less professional and respectful than officers from other police departments" in the report, released in April 2022.