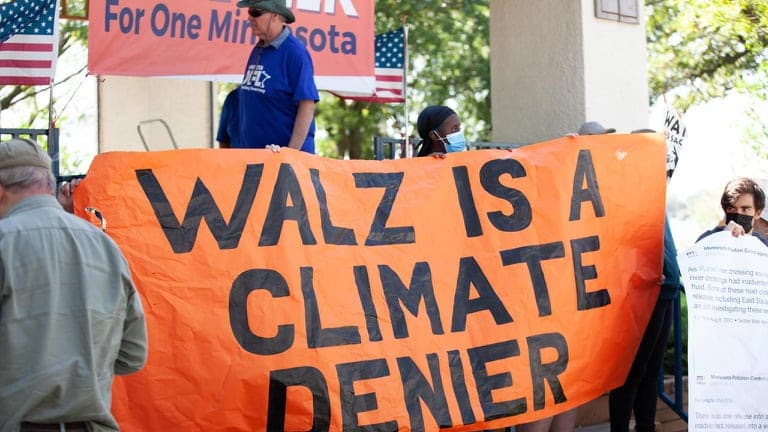 Line 3 protesters disrupt, shut down Gov. Walz speech
Walz left the Alexandria fundraising event early.
A Democratic-Farmer-Labor Party event in west-central Minnesota was disrupted by protesters Saturday, forcing Gov. Tim Walz to leave early.
Walz was mid-speech at the event, a DFL fundraiser held at a park in Alexandria, when a group of Line 3 activists appeared to confront Walz over the controversial pipeline project underway in northern Minnesota. 
As multiple videos taken at the scene show, the protesters — who call themselves water protectors — chanted and shouted at Walz, who ultimately stopped his speech and exited the scene altogether.
He can then be seen leaving the fundraiser with a police escort as protesters follow him, continuing their chants. 
In a press release, the activist group Resist Line 3 Media Collective noted that there were "dozens of water protectors" at the scene, some of whom "took the stage while singing and chanting."
Per the organization, Walz "failed to address" their questions, responding instead that he "ran and got the votes, and I have to make the decisions, and I know some of them are unpopular."
The group has taken aim at Walz for "having opposed Line 3 prior to his election and claiming to be a climate leader" and yet allowing the pipeline to be built. Walz addressed this in a recent MPR interview, saying that the pipeline process "started well before he was governor" and that his administration "followed the law on permitting" with regards to the project:
Resist Line 3 has also criticized President Joe Biden for having not yet taken a "definitive stance" on Line 3.
Saturday's incident follows similar actions outside the governor's mansion last weekend, as well as a sit-in at the Minnesota State Fair, where pipeline protesters blocked the entrance to the DFL booth. 
Activists are demanding a stop to the pipeline, arguing that it violates existing treaties with indigenous groups and poses a threat to Minnesota's wetlands and wild rice beds.
There are also concerns that Line 3, which would replace a long stretch of pipeline that carries Canadian crude oil through northern Minnesota to Wisconsin, would contribute to the worsening climate crisis.