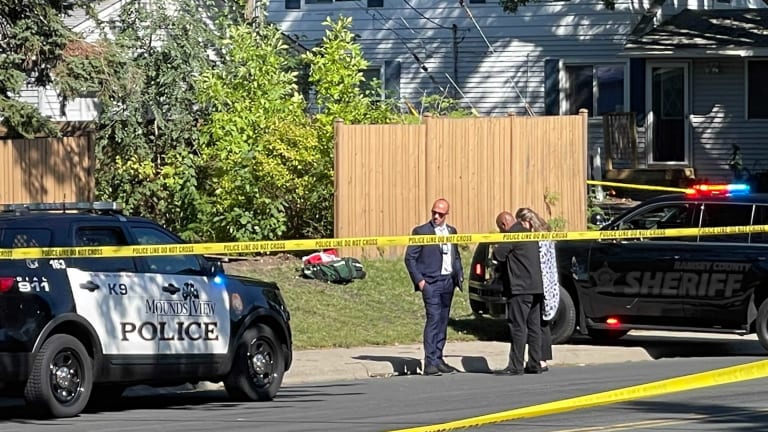 Man who allegedly shot at police in Mounds View dies from injuries after being struck by squad vehicle
The unidentified individual fired shots at police following an alleged domestic disturbance, police say.
The man who witnesses say fired multiple shots at police officers in Mounds View has died from injuries he sustained when a Ramsey County Sheriff's Office responding officer rammed him with his SUV as a measure of self defense. 
Mounds View Police Department updated the situation late Wednesday, saying the unidentified victim "succumbed to his injuries" after being transported to Hennepin County Medical Center in Minneapolis. 
The incident began with the Ramsey County Sheriff's Office and Mounds View Police Department responding to a reported felony domestic assault at approximately 10:40 a.m. at the AmericInn by Wyndham on the 2200 block of Mounds View Boulevard. 
A witness informed law enforcement that the suspect had been seen near the Mermaid Bar & Grill. Deputies arrived at the hotel and were provided a description of the suspect, whom they located about a half mile north on the 5200 block of Pinewood Court. 
Authorities were nearing the man in their police vehicles when the man "raised a handgun and fired at the approaching squads," a press release said. Witnesses from a nearby business told Bring Me The News that they heard at least three shots and then saw the Ramsey County Sheriff's Office SUV ram the man through a residential fence. 
Officers rendered aid before the suspect was transported to HCMC by ambulance. 
One bullet hit a police officer's squad car, just above the driver's side windshield; another struck a Ramsey County deputy's squad car just below the windshield, the sheriff's office said. You can see the bullet holes in the squad vehicles pictured below. 
Note: The details provided in this story are based on the police's latest version of events, and may be subject to change.