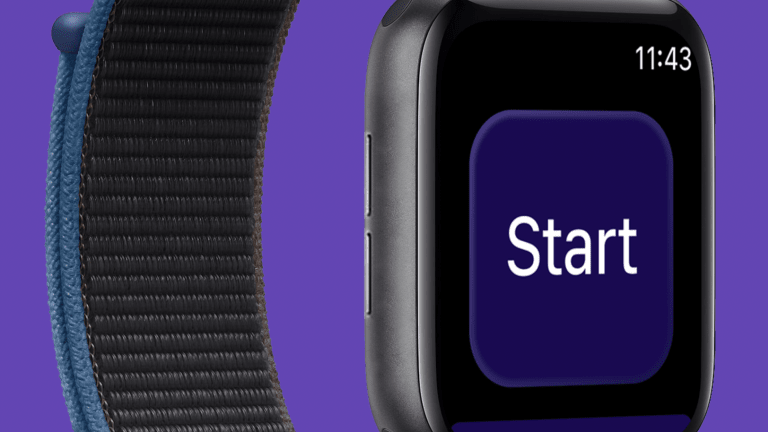 Meet the Minnesotan who created an app that stops nightmares
It was designed for veterans with PTSD, but could potentially help many others.
A Minnesota college student created an app that could help veterans with PTSD, and it's headed to clinical trials at a Twin Cities hospital.
NightWare is an app that is able to stop nightmares. You wear the app on a smartwatch to bed, and it vibrates and makes noises when you start having a night terror – just enough to pull you out of it, but not enough to wake you up.
Tyler Skluzacek of Lonsdale, Minnesota first started developing the technology in 2015, as a computer science student at Macalaster College. He was inspired by his father, Patrick Skluzacek, an Army veteran with over 20 years of service who, like so many other vets, suffers from PTSD and traumatic night terrors after a deployment overseas.
Hoping to find a solution for his dad, the then-21-year-old entered HackDC, a 36-hour coding competition in Washington D.C., the theme of which was to create a mobile app for veterans.
Skluzacek's team, which included three other students, came up with myBivy, a smartwatch and smartphone app to help veterans with PTSD track their sleep and prevent night terrors. It also has an option to submit a statistical report to a VA doctor or clinician.
Skluzacek explains how it works in this video:
After winning the competition, the team saw potential for the app to make a difference, and wanted to keep going. They turned to Kickstarter to raise $1,200 to start a company and continue developing the app. The response was overwhelming – the fundraiser brought in over $26,000, more than 20 times the original goal.
But more importantly, Skluzacek's dad finally got a good night's rest – he's been using different versions of the app since day one. Before NightWare, Patrick Skluzacek typically had one or two night terrors every night, where he would wake up and struggle getting back to sleep. Now he has an average of one night terror every 10 days, and does not wake up.
And over the last year and a half since the Kickstarter, the app has won even more awards, gone through a bunch of testing – and a name change – and it's finally ready for clinical trials, which will be held at Hennepin County Medical Center in Minneapolis.
The clinical trials are necessary to prove the app is safe and effective, and will also help determine whether NightWare could work for other groups of people, like those with sleep apnea or seizures.
A second Kickstarter for the app met its fundraising goal Friday. That money will be used to buy smartwatches and to pay participants and the hospital fee. If all goes well, NightWare should available to purchase later this fall.
How the app came about
GoMN had a chat with Skluzacek, who is now 23 and working towards his Ph.D. at the University of Chicago.
How does it work? The watch computes a stress metric by measuring a series of biometric signals from the sensors on the watch. After 6-10 days, it responds with increasing-intensity vibrations to pull the person out of the traumatic nightmare without waking them. The reason it takes 6-10 days is that we require enough data to be "confident" (both statistically and mentally) that what we're measuring is truly a traumatic nightmare versus someone just having high overall stress. Additionally, it gives people a chance to grow accustomed to wearing a watch to bed before we start blasting their wrist.
Are veterans using it already? Yes – there's a testimonial on the bottom of our Kickstarter that echoes what most people tell us. We've heard zero people had negative reactions to the app, most are positive, and only one saw no effect. That's pretty darn good in any space.
What was it like seeing your dad deal with PTSD? It was the worst thing any person could imagine short of that person literally dying, although I'm certain he got close.
What's next for you? NightWare is in capable hands with Grady [the CEO] and a team of experienced Twin Cities application developers. I chose to attend the University of Chicago to get my Ph.D. in computer science and intend on finishing it (entering my second year soon). I'm confident NightWare will continue to excel.
The next steps for NightWare are to finish the clinical trial, explore additional uses of NightWare (epilepsy, daytime stress, sleep apnea), and explore building optimized hardware devices (so you don't need a smartwatch).
For more information and updates about NightWare, check out their website and Facebook page.