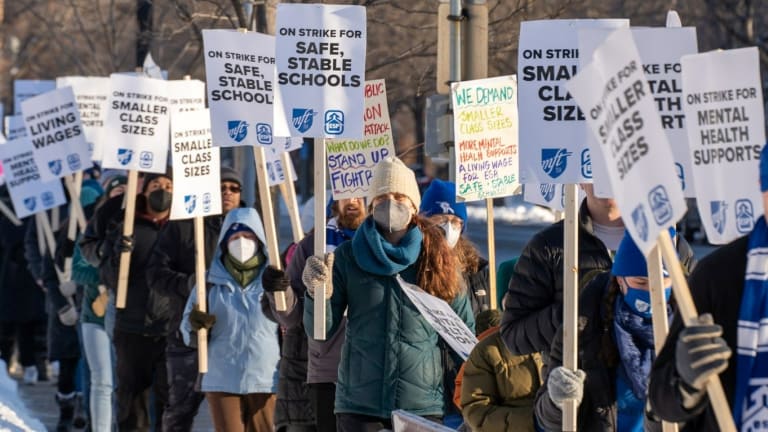 Minneapolis educators accuse school district of 'demonizing' teachers
Union and district leaders continue to meet in mediation.
Educators in Minneapolis held a third day of picketing Thursday as their union continues contract negotiations with the Minneapolis Public School district. 
Members of the Minneapolis Teachers Federation and Education Support Professionals (MFT59), which totals more than 4,500 people, are on strike, seeking better pay, class size limits, and mental health support for students, among other demands. 
Related: Teachers in Minneapolis to strike Tuesday, deal reached in St. Paul
Mediation meetings were planned for Thursday morning and the afternoon, the union said, noting they were the ones who continue to move in negotiations while the district isn't budging. 
MFT59 union leaders during a news conference Thursday morning said they're committed to making "systemic change" in the district, calling on the school board instead of HR and lawyers to be at the bargaining table with union representatives. 
Union members are criticizing Minneapolis Public Schools for releasing details about the negotiations, spreading misinformation and demonizing educators to make them look greedy. Union leaders said Thursday the district has misrepresented contract proposals, adding MPS is intentionally not offering counterproposals so it can "demonize" educators in "their fight for the common good."
"We can't keep bargaining against ourselves. It is their turn to move ... this is a fight for them (the district) to have total and utter control," Greta Callahan, president of the union's teacher chapter, said during the Thursday news conference.
Callahan said their hard-line is increasing starting wages for education support professionals (ESPs) to $35,000. Right now the average is about $24,000, the union has said. She said ensuring ESPs earn a living wage is their No. 1 priority. 
According to Minneapolis Public Schools, the union and MPS met for 90 minutes on Wednesday but didn't reach an agreement. The district's update said, "MPS is awaiting counter-proposals from both teachers and ESPs [education support professionals], including responses on wages, as well as on the District's proposals related to recruiting and retaining teachers of color."
On Thursday morning, educators picketed on highway overpasses and bridges in Minneapolis and at their respective district buildings. They plan to hold a rally and march in downtown Minneapolis at noon on Thursday as well.
In addition to mediation sessions scheduled for Thursday, there are sessions planned for Friday and throughout the weekend, the union said.