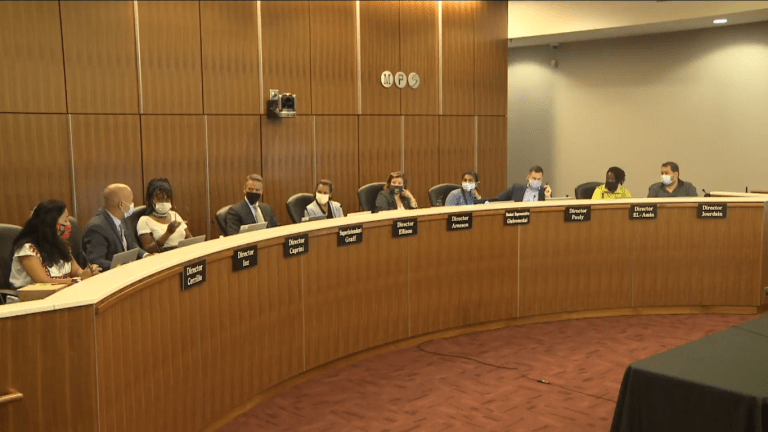 Minneapolis Public Schools will require staff to be vaccinated or tested regularly
The new policy also applies to contractors or partners that have direct student contact.
All Minneapolis Public Schools employees will need to prove they have been fully vaccinated against COVID-19 or submit to regular COVID testing.
The district's school board, with broad support, approved the new COVID-19 policy at Tuesday evening's meeting. It means that, come Oct. 15, all district employees as well as "contractors, volunteers and partners with direct student contact" must show they have been vaccinated against COVID, or submit to regular testing.
Board of Education Director Nelson Inz, during a 30-minute discussion ahead of the vote, called  his "Aye" decision the easiest he's made in his seven years on the board.
"Our responsibility is clear: To make sure that our employees have a safe workplace as much as we can, and our students have a safe place to go to school," he said, adding it is "really disappointing" to see other elected officials express resistant.
He called it "unfathomable" that, after a year of being "desperate" for a vaccine that would allow for in-person learning, the board has to mandate its use in any respect.
The resolution, which passed unanimously, came to light last week when it appeared on the meeting's agenda. 
At Tuesday's meeting, Superintendent Ed Graff said there is widely held belief that "high vaccination rate among our staff s critical t keeping our schools open for in-person instruction, and protecting our students — especially our students who are under the age of 12 and cannot get a vaccine."
He compared the COVID vaccine to inoculations against childhood diseases such as mumps and measles. State law requires students to have received certain immunizations, or to receive an exemption.
Minneapolis Public Schools has an estimated 6,476 staff members, with nearly 33,000 students.