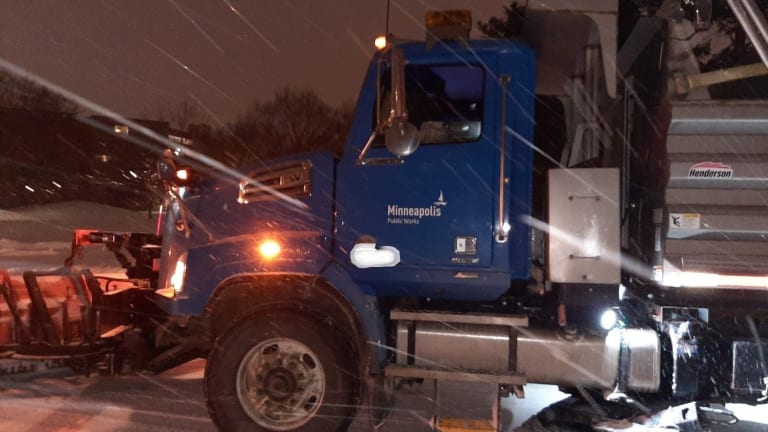 Minneapolis shifting to one-sided street parking starting Thursday night
EMS vehicles, firetrucks and buses have struggled to drive on city streets due to snow.
The City of Minneapolis has declared one-sided street parking beginning at 9 p.m. Thursday, saying ambulances, firetrucks and school buses are experiencing difficulties due to the narrowing of the streets caused by this month's snow.
Vehicle owners will only be allowed to park on the odd side of streets that are not snow emergency routes. No parking is allowed on the even side of streets and where temporary "No Parking" signs are present.
Drivers can still park on both sides of snow emergency routes unless "No Parking" signs are in place.
Minneapolis Public Works Director Anderson Kelliher said the parking ban will last through April 1, but noted that it could be lifted sooner if weather conditions improve.
Beginning at 9 p.m. Thursday, vehicles not moved from even-sided streets and in temporary "No Parking" zones will be ticketed and towed, according to city officials.
Firetrucks and ambulances have struggled to navigate city streets due to snow piling up on the sides of the road, while school and Metro Transit buses have also been getting stuck and delayed.
Martin Scheerer, EMS Chief at Hennepin County Medical Services, also asked residents to clear sidewalks as it becomes difficult to wheel stretchers through the snow.
The last time the city saw winter parking restrictions enacted was on Feb. 24, 2019. It lasted until March 15.
Kelliher said officials were hoping warmer weather and sunnier skies would prevent the restrictions being enacted.
"We were hoping for sunshine that would help but it didn't happen in the past 10 days," she said. "And no warming temperatures are in sight for a while."
"We understand the inconvenience this presents for people but it is necessary to keep people safe by having our emergency responders access streets easier."
Kelliher added that if a snow emergency is called in the future, this parking ban would be temporarily lifted and then put back in place once the snow emergency is over.
People are encouraged to download the Minneapolis 311 app to get the latest updates and report any violations.
This is a developing story.
You can watch the full press conference held by Minneapolis officials below or by clicking here.