Minnesota AG Keith Ellison to sue oil giants over climate change
Exxon Mobil, Koch Industries, and American Petroleum Institute are named in the suit.
Minnesota Attorney General Keith Ellison has announced his office will be suing two oil giants and the oil trade body for "deceiving and defrauding" Minnesotans about climate change.
The AG announced Wednesday that his office has filed a lawsuit against Exxon Mobil, three Koch Industries entities, and the American Petroleum Institute "for perpetuating fraud against Minnesotans."
The suit includes claims for fraud, failure to warn, false statements in advertising, deceptive trade practices, and consumer fraud.
His office is seeking an injunction to prevent these practices in Minnesota, as well as financial restitution and the funding of a public education campaign relating to climate change.
It is arguing that the companies "strategized to deceive the public about climate-change science in order to safeguard their business interests."
"It was uncovered only starting in 2015 that internal experts in the field of climate change at these companies were issuing warnings to company leaders about what was coming," the AG's Office said. "But rather than warn the public, as was the companies' duty, the complaint details a multi-pronged campaign of deception that the companies and API conducted over the past 30 years.
"During this same period, ExxonMobil and Koch earned hundreds of billions of dollars in profits while Minnesota shouldered the costs and consequences of unmitigated climate change."
Included in the lawsuit is a document dated from Exxon Engineering in 1979 which states that the increase of CO2 in the Earth's atmosphere was the result of "fossil fuel combustion," as well as another document from industry front group The Information Council for Environment that downplays the risk of climate change.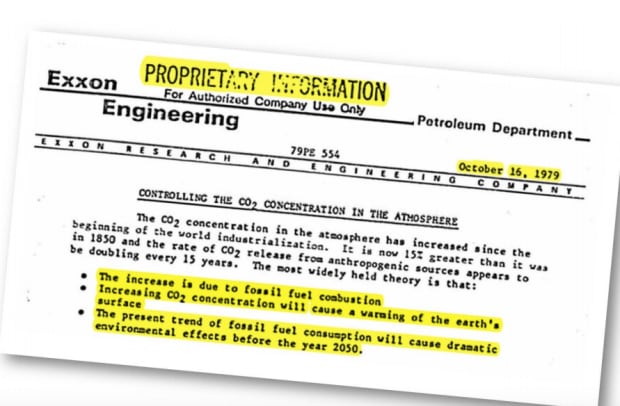 The lawsuit argues that "the economic devastation and public-health impacts from climate change were caused, in large part, by a campaign of deception that Defendants orchestrated and executed with disturbing success."
Minnesota is the latest state government to sue fossil fuel companies "responsible for harms associated with climate change," with others including the states of Massachusetts, New York, and Rhode Island.
"When corporations and trade associations break the law and hurt Minnesotans, it's my job and my duty to hold them accountable," Ellison said.
"The fraud, deceptive advertising, and other violations of Minnesota state law and common law that the lawsuit shows they perpetrated have harmed Minnesotans' health and our state's environment, infrastructure, and economy."
"Impacts from climate change hurt our low-income residents and communities of color first and worst. The impacts on farmers in our agricultural state are widespread as well. Holding these companies accountable for the climate deception they've spread and continue to spread is essential to helping families to afford their lives and live with dignity and respect."