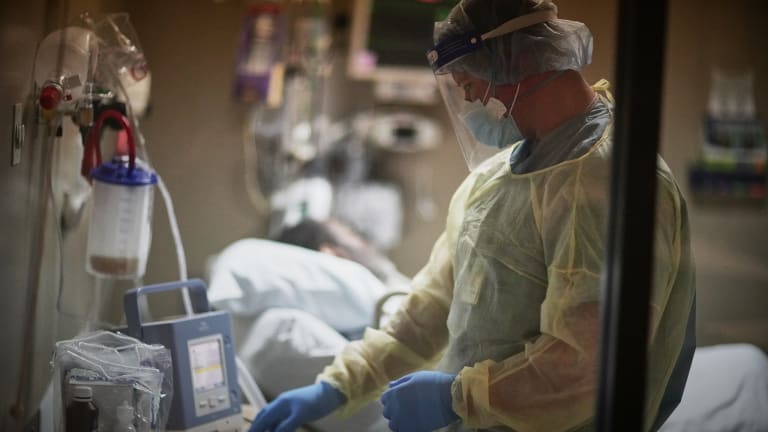 Minnesota COVID-19 hospitalizations surpass spring surge numbers
The figures remain below the worst stretch of the pandemic seen in late 2020, however.
The number of people hospitalized with COVID-19 in Minnesota has surpassed the surge seen in spring 2021. 
The state on Tuesday said 748 people are in the hospital due to COVID-19 — 208 of them in intensive care, and the remaining 540 in general care. Those figures are the highest they've been in months, eclipsing the peak reached in late April.
That spring surge, at its highest point, saw 202 COVID patients in intensive care and 517 COVID patients in general hospital care, according to capacity figures.
Related: Minnesota's COVID-19 update for Tuesday, September 14
The swelling number of COVID cases is pushing hospital systems toward their capacity limit.
There are 79 adult ICU beds open across the state, with 42 hospitals reporting they are at or above 95% staffed ICU capacity (for all patients, not just those with COVID). In the Twin Cities, just 3.7% of all existing adult ICU beds (25 in all) are currently open. In the northeast, central and southeast regions, ICU bed availability is below 10%
The figures are similar for non-ICU hospital beds, where just 1.7% of existing non-ICU hospital beds in the Twin Cities are currently open. The rates are slightly better in other regions of the state.
While hospitalization numbers are at their highest points in months, the situation remains less dire than during the winter peak. COVID cases that required an ICU bed climbed to just shy of 400 in early December, while non-ICU cases hovered around 1,400 during that time.
The Minnesota Department of Health on Tuesday noted 4,603 new COVID cases and 12 newly reported deaths, 11 of which occurred this month.