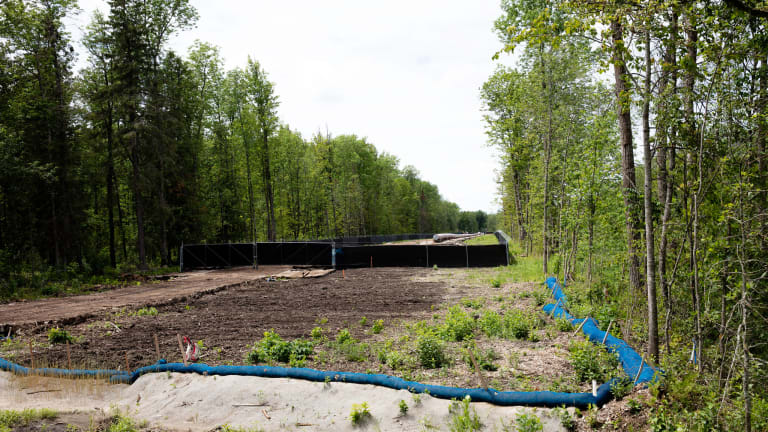 Minnesota DNR orders Enbridge to pay $3.32M over Line 3 environmental violations
The pipeline company breached a groundwater aquifer, causing water to flow uncontrolled into a trench.
Pipeline company Enbridge has been fired $3.32 million by the Minnesota Department of Natural Resources over an environmental violation relating to the construction of its controversial Line 3 pipeline across northern Minnesota.
The DNR announced on Thursday that the fine has been levied after the energy company "breached the confining layer of an artesian aquifer, resulting in an unauthorized groundwater appropriation during the construction of the Line 3 replacement project near Enbridge's Clearbrook Terminal."
In plain English, what happened is that Enbridge's initial plans for the site near the Clearbrook Terminal in northwestern Minnesota was to dig a trench that was 8-10 feet deep.
Instead, it ended up being about 18 feet deep, and it also installed sheet piling to a depth of 28 feet, which then led to groundwater flowing uncontrolled into the trench.
Not only that, but the DNR says Enbridge failed to notify it of the incident, with the breach noticed by an independent monitor working for the DNR and the Minnesota Pollution Control Agency in late January 2021.
The $3.32 million payment will include "a restoration order requiring $300,000 in initial mitigation funds to pay for the loss of groundwater resources, $250,000 for DNR monitoring of calcareous fen wetlands near the area of the aquifer breach."
There's also a $20,000 administrative penalty order – the highest it can impose – while the company is required to set aside $2.75 million in escrow for any restoration and mitigation of damage caused to the wetlands.
The order also requires Enbridge to put in place a plan to stop groundwater flow within 30 days.
"DNR is committed to its role as a regulator on this project and is taking seriously our responsibility to protect and manage natural resources within existing state law," said DNR Commissioner Sarah Strommen. "Enbridge's actions are clear violations of state law and also of public trust. This never should have happened, and we are holding the company fully accountable."
The Walz Administration has come under increasing pressure from activists over his decision not to block construction of Line 3, which will be able to carry 760,000 barrels' worth of crude oil every day, in a year that the U.S. and the wider world has experienced a series of climate change-exacerbated weather disasters.
Enbridge said on Aug. 10 that Line 3 was more than 80% complete and should be finished this year. The Minnesota Pollution Control Agency found at least 28 inadvertent releases of drilling fluid along the construction route from June 5 to Aug. 8, including 13 into wetlands — which is a violation.