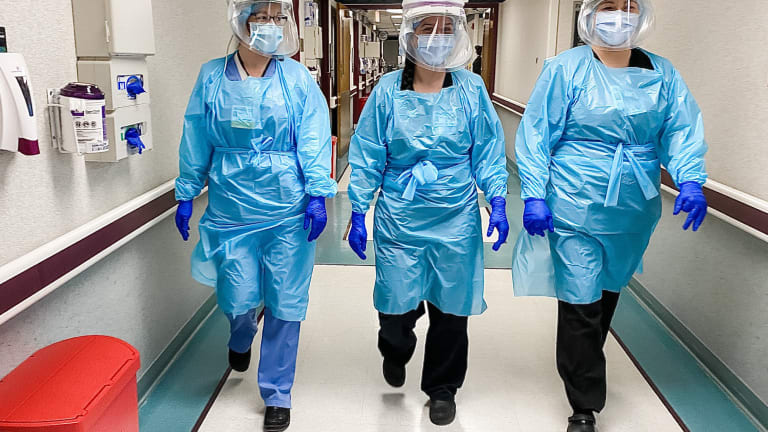 Minnesota hospitals hit lowest point of staffed bed availability during pandemic
Not even the massive fall/winter surge in 2020 led to a capacity crisis like this.
Minnesota is currently experiencing its worst point for staffed ICU bed availability than at any time during the pandemic so far.
There were 45 staffed ICU beds available in Minnesota as of Tuesday, which marked the lowest point of staffed bed availability during the entire pandemic, a health department spokesperson confirmed to Bring Me The News. 
"Yes you are correct this is the lowest point of staffed bed availability during the pandemic. MDH is closely monitoring the situation and is in constant contact with our health care leaders about the steps they are taking to manage capacity and about the help they need," MDH Information Officer Scott Smith said. 
MDH's COVID-19 dashboard shows that as of Tuesday there were 990 people in Minnesota hospitals being treated for COVID-19, including 260 in the ICU and 730 receiving general care. 
The map below, updated Wednesday to show there are now 48 staffed ICU beds available, reveals that there are only six beds available in the entire Twin Cities metro region.
That means 99.1% of all available ICU beds are filled in the metro. Limited capacity often leads to longer waits for care and patients being diverted to areas of the state where beds and staff are available. But it is clear, healthcare facilities are stressed everywhere in Minnesota. 
The current wave of disease dwarfs the spring surge that saw a maximum of 719 people hospitalized at one time. And even though the almost 1,000 patients being treated now isn't near the approximately 1,600 patients who were admitted during the peak of the 2020 fall/winter surge, staffing shortages have resulted in an even more dire situation. 
"We really need all Minnesotans to do their part too. The best thing we all could do to help preserve hospital and health care capacity is to reduce the amount of disease transmission that is happening in our communities – and particularly in our greater Minnesota communities and our schools, where we still have many children under 12 who cannot yet receive that protection from vaccines that makes such a big difference," said Smith.
Evolution of disease has followed a clear pattern around the country as areas with lower vaccination rates have been burdened with higher rates of infection. For example, of the nearly 8,000 new cases that were reported Saturday-Monday, 61% were outside of the seven-county Twin Cities metro area. 
Why? The assumption is that the metro area has higher vaccination rates, so despite population density working against the Twin Cities, case rates are higher in greater Minnesota, where vaccination rates are commonly lower. 
The 20 highest county case rates in Minnesota are outside the metro. 
Clearwater: 129.4 cases per 10,000 people
Mahnomen: 90.8
Wadena: 88.7
Becker: 76.1
Yellow Medicine: 70.9
Beltrami: 70.5
Traverse: 68.9
Red Lake: 64.9
Redwood: 62.6
Marshall: 57.5
Todd: 56.9
Koochiching: 55.4
Martin: 55.1
Cass: 54.4
Lincoln: 54.3
Lake: 53.0
Benton: 52.8
Hubbard: 52.7
Steele: 51.8
Crow Wing: 51.5
None of the seven metro counties have a case rate above 33.5 per 10,000 residents. In fact, Minnesota's two most populous (and among the most vaccinated) counties, Hennepin and Ramsey, are two of only six counties statewide with case rates below 20. 
Cook: 7.5 cases per 10,000 people
Chippewa: 12.5
Pipestone: 14.2
Ramsey: 17.3
Hennepin: 19.8
Jackson: 19.9
While being vaccinated reduces, but doesn't totally prevent someone from contracting COVID, it does significantly reduce the chances of experiencing severe symptoms that lead to hospitalization or death.
Last week, Dr. Kevin Crosten, CEO of North Memorial Health, said there was a "clear distinction" between the vaccinated and unvaccinated. 
"Our current hospital experience reveals that 100% of our patients who are COVID-positive in our ICUs are unvaccinated, and of the COVID-positive patients in our medical-surgical unit, 75% are unvaccinated," he said. 
Governor Tim Walz has asked state lawmakers to help protect hospital and healthcare capacity through a number of avenues, including urging them to vote in favor of instituting testing and vaccine requirements for teachers and long-term care workers, in addition to temporarily reinstating bed moratorium waivers at hospitals and addressing nursing home bed requirements.
Meanwhile, health officials are urging Minnesotans to do their part by wearing masks, getting vaccinated and staying home when sick or exposed to someone who has COVID-19.  
"It means taking COVID seriously, recognizing that the pandemic isn't over yet, and your daily choices and actions directly impact the course of this pandemic in your family, your community and your state," Smith said. 
"Please help us, and please help our hard-working health care workers by reducing the pressure on them."