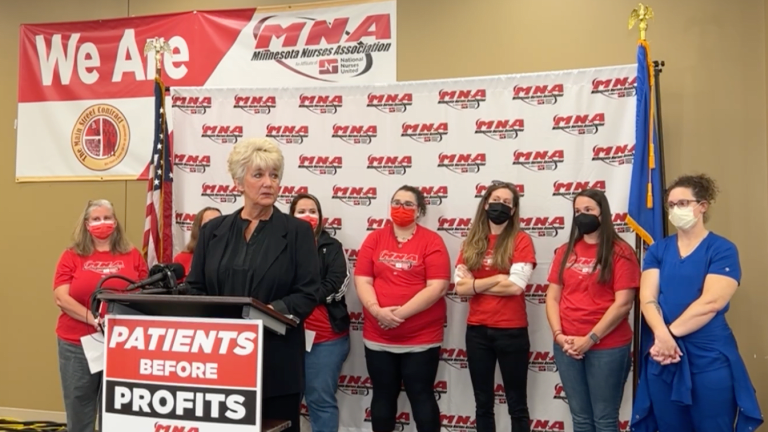 Minnesota nurses to strike for 3 days at 15 hospitals
The hospitals are in the Twin Cities and Twin Ports area.
Around 15,000 Minnesota nurses have given a 10-day strike notice that will last for three days starting Sept. 12, if there isn't an agreement reached regarding their contracts.
The announcement was made during a  Thursday news conference. The strike is expected to go from 7 a.m. Sept. 12 to 7 a.m. Sept. 15.
The decision to strike comes after multiple failed negotiations between the Minnesota Nurses Association and hospital executives. On Aug. 16, the union authorized a strike for the nurses, who span across 15 Twin Cities and Twin Ports of Duluth-Superior hospitals.
"We can only hope these 10 days will motivate them," said Mary Turner, president of the Minnesota Nurses Association. Turner is an intensive care nurse at North Memorial Health in Robbinsdale.
Hospitals will now have the 10 days to look for replacements or finalize a deal the union agrees to within that timeframe. If an agreement can't be reached on bettering pay and benefits, the loss of nurses will leave hospitals heavily understaffed.
"This strike is historic. Not just because it's the largest private sector nurses strike in United States history, but because it is the first time so many Minnesota nurses across the state will strike together," Turner said during a news conference.
The hospitals included in the strike are:
M Health Fairview University of Minnesota
M Health Fairview Southdale in Edina
M Health Fairview St. Joseph's Hospital in St. Paul
M Health Fairview St. John's Hospital in Maplewood
Essentia Health St. Mary's Medical Center in Duluth
Essentia Health St. Mary's Hospital in Superior
Methodist Hospital in St. Louis Park
Abbott Northwestern Hospital in Minneapolis
Mercy Hospital in Coon Rapids
United Hospital in St. Paul
Mercy Hospital – Unity Campus in Fridley
Children's Minnesota in Minneapolis
Children's Minnesota in St. Paul
North Memorial Health Hospital in Robbinsdale
St. Luke's Hospital in Duluth
Turner noted how hospital staff are needed "more than ever in the state," mentioning the rising COVID-19 cases in state hospitals recently.
"This is a somber day. We are devastated that we have to go these extremes," Turner said. "Do they need us there? You bet they do. So hospitals: our patients need us so do something about it."
Twin Cities Hospitals Group, which includes Children's Minnesota, North Memorial Health, Fairview Health and Park Nicollet Methodist Hospital, said the nurses' union has demanded wage increases by 32-39% over the next three-year contract. Hospitals have offered around a 10-12% wage increase instead.
"Increases like this would cost hundreds of millions of dollars across Twin Cities Hospitals and are not economically feasible or responsible to our community members who would ultimately pay the price," the Group's website states.
According to the union, chief executive officers from the seven health systems operating the 15 hospitals take home annual compensation ranging from a low end of more than $700,000 at St. Luke's, where there are co-CEOs, to the $3.5 million M Health Fairview CEO James Hereford makes.
Both sides have agreed on the need to improve recruitment and retention of nurses, but the hospitals have stated that the union's wage demands are too costly. 
Essentia Health said urged mediation to reach an agreement with the nurse's union on Thursday.
"We are disappointed that the MNA has called a strike. It is our belief that we have a shared responsibility to care for the communities we're privileged to serve. At Essentia, we're proud to have some of the finest nurses in the world; they are an integral part of that commitment. We look forward to reaching an agreement that benefits them while continuing to provide expert, compassionate — and uninterrupted — care for our patients," Essentia Health said in a statement.
Twin Cities Hospitals Group provided the following statement to Bring Me The News on Thursday:
We are disappointed the nurses' union today has rushed into an intent to strike notification and refuses to exhaust all available means to avoid potential disruption to patient care including our repeated offers of an outside mediator. Mediation was successfully used in previous contract talks and we believe it represents a practical way to bring focus and clarity to the negotiations. We encourage the nurses' union and its supporters to focus on the pathways we've successfully used in the past.
We understand the past two years have been hard on everyone in health care. Our care teams all worked exceptionally hard to care for patients and care for each other. Today, our non-profit hospitals continue to recover financially from the COVID-19 pandemic and the changes the pandemic brought to the workforce and our community. Despite the financial challenges to our hospitals, we are proud to have offered our nurses the largest wage increases in 15 years while agreeing to keep nurses' benefits unchanged for the life of the contract. The nurses' union continued demands for wage increases of more than 30 percent remain unreasonable, unrealistic and unaffordable.
It is important for the public to note: our hospitals are open and will remain open to serve the community. We will continue our efforts at the negotiating table to reach reasonable agreements and avoid any actions that would interrupt patient care. We assume the union will do the same. We remain committed to serving our community and keeping our focus on the patients we serve.
Allina Health also provided the following statement:
We are disappointed the union is choosing to rush to a strike before exhausting all options, like engaging a mediator in negotiations which they have repeatedly rejected. The union's premature decision to move forward with a work stoppage is not Allina Health's desired outcome of our negotiations. We made progress this week at the negotiating table and a strike only serves to keep our valued nurses from working alongside our care team to deliver needed patient care. 
Throughout negotiations, Allina Health has offered an economic package that includes a wage increase of 11% over the three years of the contract, additional compensation benefits, and a commitment to other priority issues, such as diversity, equity and inclusion, workplace safety and recruitment and retention. The union is still at an unsustainable 31% wage increase over three years, which is not feasible as we look long-term at our responsibility to all employees and our commitment to being a sustainable asset to the communities we serve. 
We know agreement on important issues for both parties is possible, and it is our preference to get back to the bargaining table with the help of a mediator. However, a work stoppage does not change our commitment to providing safe and reliable care to our communities and we have plans in place to continue providing care throughout the duration of the work stoppage.
You can watch the union's announcement below, via its Facebook page.
This is a developing story.