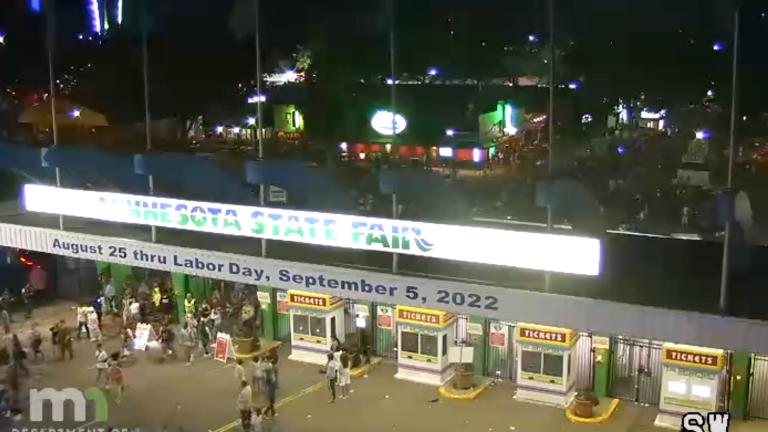 Fight, shooting, panic cause early closure of Minnesota State Fair
Police say a person was shot, suffering non-life-threatening injuries.
A person was shot during a disturbance at the Minnesota State Fair on Saturday night, sparking panic and causing the fair to close early.
In an update issued at 1:15 a.m., Minnesota State Fair police says there was a gunshot reported at Carnes Avenue and Liggett Street in the Midway area, with police later finding a person suffering from non-life-threatening injuries.
Note: An earlier version of this story mentioned fighting near Cafe Caribe. This was incorrect and we apologize for the error.
The area was "heavily populated with guests" and police at the time, with video from the fairgrounds showing hundreds of people suddenly fleeing at around 10:07 p.m.
FOX 9 reports that the gunshot was preceded by a fight involving several people, which police were trying to break up. It was then that pepper spray was used, which is possibly what caused the initial panic captured on fair cameras.
Video shared by someone at the fair shows people running from the area.
The victim in the shooting was taken to a hospital by St. Paul Fire Medics, with the shooting sparking a major police response.
The fair issued an evacuation order at 10:20 p.m., 40 minutes before the fair was due to close.
The incident is now under investigation. 
A witness who was near the Midway with his dad told Bring Me The News he was in the Frontier Saloon at around 10 p.m. when a "crowd rushed in freaking out and they started closing the doors."
"I asked around what happened and was told there was a fight and the police started pepper spraying the area. And in the distance I heard someone else say 'pepper.' and it sounded like that was what dispersed the crowd."
"Then we left and saw the 10pm fireworks, saw another band at Dino's Gyros a couple blocks away, came back at 11pm to get on the bus and there was a police line nobody could cross unless getting on the bus." 
Live stream of the Midway area from KSTP cameras showed fair-goers suddenly fleeing the area, with police arriving at the scene minutes later.
Governor Tim Walz issued a statement Saturday night, saying: "Grateful for the coordinated law enforcement presence at the State Fair.
"Officers are working quickly to usher folks off the fairgrounds and respond to reports of violence in the Midway area. We're monitoring the situation and working quickly to restore order."