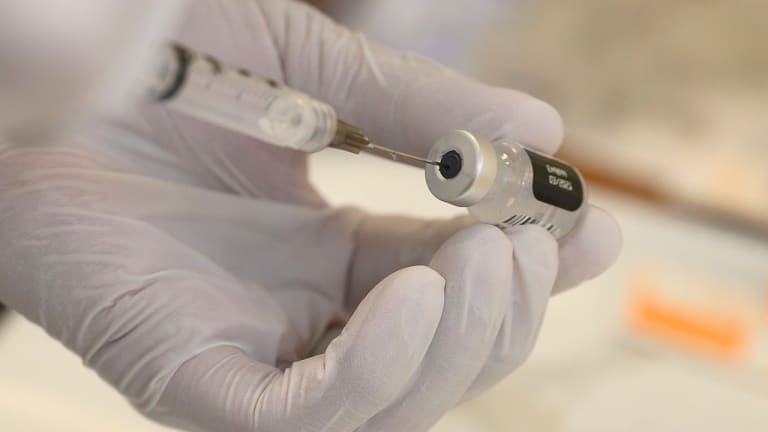 Pfizer booster shots immediately available for select Minnesotans
118 fully vaccinated Minnesotans have died from COVID-19.
With the FDA approving booster shots of the Pfizer-BioNTech vaccine, Minnesota is ready to start putting needles in arms of those who are eligible for the booster dose. 
Approximately 55% of fully vaccinated Minnesotans received the Pfizer vaccine, but only select people will be able to get the shot right away – and nobody can get the booster unless it has been at least six months since getting their second shot. 
Here's how the state breaks down those who are eligible: 
People ages 65+ and residents of long-term care "should" get the booster. 
People ages 50-64 with underlying medical conditions "should" get the booster.
People ages 18-49 with underlying conditions "may" receive a booster. 
People ages 18-64 who are at an increased risk of exposure to COVID-19 because of their occupational setting "may" receive a booster. 
Jobs that qualify as high-risk for exposure to the virus include the likes of teachers, medical workers and first responders. 
Vaccine providers are authorized to immediately give booster shots to those who are eligible. People can use the state's vaccine locator map to find a provider for a booster shot (or your first or second dose of any shot), or people can find available appointments at vaccines.gov.
Booster shots are good news for anyone worried about immunity waning from their original vaccine series. According to MDH Infectious Disease Director Kris Ehresmann, the state has so far recorded 118 vaccine breakthrough deaths, meaning people who were fully vaccinated contracted COVID-19 and died. 
"The median age of those deaths is 78.5, so we are seeing that in an older population," said Ehresmann. 
Still, as Bring Me The News reported Thursday, major hospital systems in Minnesota and the Upper Midwest continue to share data that proves unvaccinated people are far more likely to end up in the hospital with COVID-19. 
News of the available booster shots comes when Minnesota continues to see high levels of COVID-19. All 87 counties have high rates of transmission, according to the CDC, On Friday, the health department reported 2,997 new cases and 27 deaths. 
"We are not yet seeing that we are at a point where we would say we've reached a peak. We don't know that. We don't believe we have," said Malcolm. "But in terms of what we expect for the rest of the winter, that really does depend on continuing to get people vaccinated and to continue to use those mitigation strategies."
As of Sept. 22, just over 73% of Minnesota's age 16+ population had at least one dose of one of the three vaccines. 
Malcolm later commented, "This latest wave in cases is not going to go away anytime soon."