Photos: Aftermath of the Minneapolis protest for George Floyd
Property damage at the 3rd Precinct after chaotic protest.
The protest and subsequent police response on the streets of south Minneapolis Tuesday evening have left a trail of damage in its wake.
Hundreds of people took to the street Tuesday night to protest the death of George Floyd. 
People to rallied at Chicago and 38th Tuesday, where they demanded justice for Floyd. As the protest moved toward the 3rd Precinct, the scene quickly turned chaotic and some violence ensued.
Some protesters tagged buildings and police cars, while others broke windows on the precinct and police vehicles. Meanwhile, police officers used tear gas and what people have called rubber bullets against the protesters.
On Wednesday morning, trash and broken glass could be seen near the 3rd Precinct. At Chicago and 38th, a memorial to Floyd is growing.
As of 10 a.m. Wednesday, neither Mayor Jacob Frey nor Minneapolis Police Department has issued a statement about the scenes, despite the city making international headlines, while police have come in for criticism for some of the tactics they used.
Aftermath of 3rd Precinct protest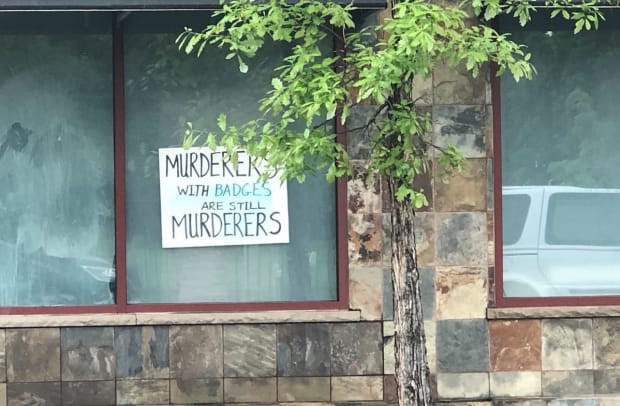 The 46-year-old was handcuffed and detained by police Monday evening after allegedly trying to use a counterfeit bill at a local store near Chicago and 38th in south Minneapolis.
Video shows a Minneapolis police officer putting his knee on Floyd's neck for five minutes and Floyd can be heard saying "I can't breathe." He died at the hospital a short time later.
The four officers, who haven't officially been identified, involved in the incident were fired. The FBI and Minnesota Bureau of Criminal Apprehension are investigating. And people in Minneapolis are demanding the officers be charged in Floyd's death and changes be made to prevent more African American men from dying at the hands of police officers.
"Firing these officers was a good first step on the road to justice for George Floyd, but we need to make sure that the mayor and the police chief fix the policies and training deficiencies that permitted this unlawful killing to occur," the Floyd family's attorney, Ben Crump, said in a statement Tuesday.
"For four officers to inflict this kind of unnecessary, lethal force – or watch it happen – despite outcry from witnesses who were recording the violence –demonstrates a breakdown in training and policy by the city."At the time of this writing, Minneapolis Mayor Jacob Frey and the Minneapolis Police Department have not commented on the protest. 
On Tuesday afternoon, Frey did say he supported peoples' First Amendment right to express their anger and heartbreak over Floyd's death and encouraged protesters to wear masks and keep a safe distance from others to protect against the spread of COVID-19.