Photos: Rioting in Minneapolis sees numerous businesses burned
An incredible amount of damage has been done in south Minneapolis.
Numerous businesses were damaged or destroyed as protests escalated into violent rioting Wednesday night into Thursday morning in south Minneapolis.
AutoZone, located across the street from Minneapolis police's 3rd precinct, was destroyed by fire, as was a nearby Wendy's, a cellphone store, and an affordable housing building that was under construction, in addition to fire alarms buzzing at Target, Cub Foods and many other locations.
The strip mall between Target and Cub Foods on Lake Street saw nearly every storefront window smashed, with smoke filling the air in the area as the sun came up Thursday morning. 
Rioting in south Minneapolis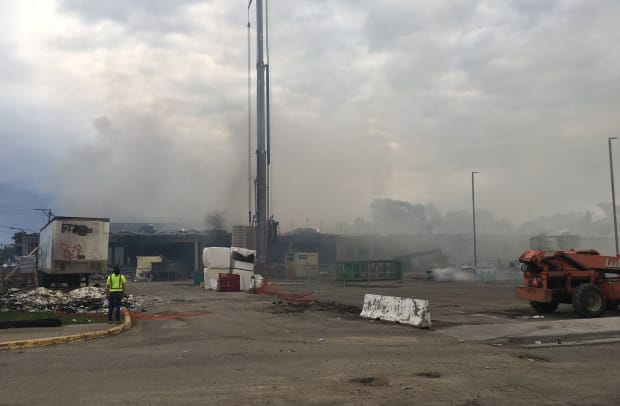 Some fires remain active Thursday morning, including at the Dollar General store located in the busted-up strip mall across from the police station, according to Tony Webster. 
Protestors remain scattered about in the area, with the Star Tribune's Libor Jany reporting that some officers were going home after a second night of clashes following the death of 46-year-old George Floyd, a black man from St. Louis Park who died after being taken into custody by Minneapolis police outside Cup Foods at the intersection of Chicago Ave. and 38th St. 
The looting happened at businesses all the way west to the Uptown area, where windows were smashed at Target and at stores on Hennepin Avenue.
What started as peaceful protests early Wednesday afternoon rapidly escalated into violence as the day progressed, eventually turning deadly when a storeowner reportedly shot a man attempting to loot Cadillac Pawn and Jewelry on Lake Street. A 59-year-old suspect was taken into custody, according to Minneapolis police. 
Late Wednesday night, Minneapolis Mayor Jacob Frey begged people to stay safe and leave the area. 
"Please, please Minneapolis. We cannot let tragedy beget more tragedy. The activity around Lake and Hiawatha is now unsafe. Please, help us keep the peace. Stay safe and evacuate the area," he said. 
Hwy. 55 has been closed in both directions near Lake Street, with the closure expected to last at least through noon Thursday. 
Photos are courtesy of Andy Swenson and Adam Uren.