Photos: Sunrise reveals extent of riot damage in Minneapolis
Numerous buildings were set ablaze on the fourth night of unrest after the killing of George Floyd.
A fourth night of unrest in the wake of George Floyd's in-custody death in Minneapolis has resulted in another trail of destruction as rioters broke away from peaceful protests to loot businesses and start fires. 
The latest destruction is found in the area of the 5th Minneapolis Police Precinct, located at the corner of 31st Street and Nicollet Avenue, just one block south of Lake Street on the west side of Interstate 35W. 
Arson and burglary crimes went unopposed for hours in the area as Minnesotans watched in horror as rioters torched a United States Postal Service building, Wells Fargo and numerous other buildings until hundreds of law enforcement and National Guard soldiers arrived around 11:30 p.m. to scatter the crowd. 
By then, the damage was done – and sunrise Saturday morning has revealed the extent of the chaos. 
Sunrise reveals riot damage Saturday morning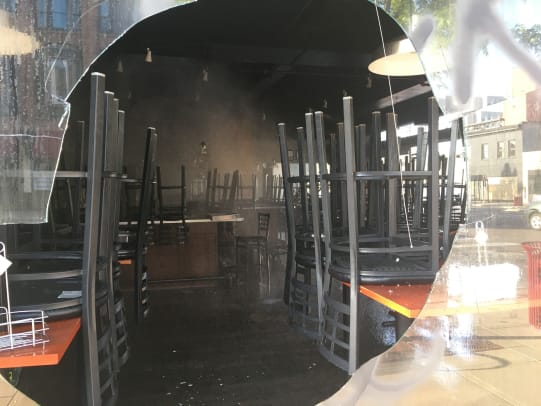 Gov. Tim Walz and Minneapolis Mayor Jacob Frey held a press conference at 1:30 a.m., begging people to go home. Walz speculated that many of the people causing the damage were anarchists, including white supremacists and drug cartel members. 
"The terrifying thing is that this resembles more a military operation now as you observe ringleaders moving from place to place," Walz said.
"I will take responsibility for underestimating the wanton destruction and the sheer size of this crowd," Walz said, adding that the massive crowd made it extremely difficult to make arrests. 
"There are simply more of them than us," he said.
The violence came despite former Minneapolis cop Derek Chauvin was arrested and charged with third-degree murder and manslaughter in connection to the death of Floyd. 
Chauvin is the officer seen in the video of Floyd's arrest who held his knee on the African American man's neck for 8 minutes and 46 seconds, continuing to do so even as Floyd lost consciousness.