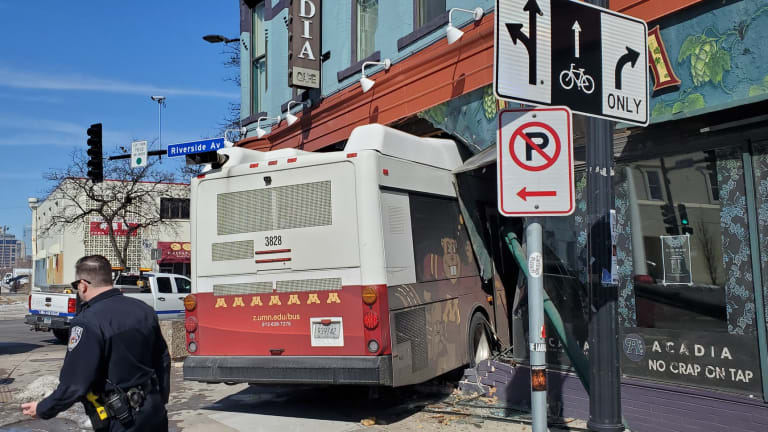 Photos: University of Minnesota bus crashes into Minneapolis restaurant Acadia
It happened around lunch time Tuesday.
A startling scene in Minneapolis' Cedar-Riverside neighborhood Tuesday, when a bus crashed into a popular restaurant and ended up almost entirely inside the building.
The collision happened around 12:15 p.m. at the intersection of Cedar and Riverside Avenues, according to social media posts. Photos posted on Twitter by Mason Butler (of KFAI A.M. Drive) show the University of Minnesota bus crashed into Acadia, a restaurant, craft beer bar and music venue. 
The bus appears to be almost entirely inside the building, with just its rear wheels on back jutting onto the sidewalk.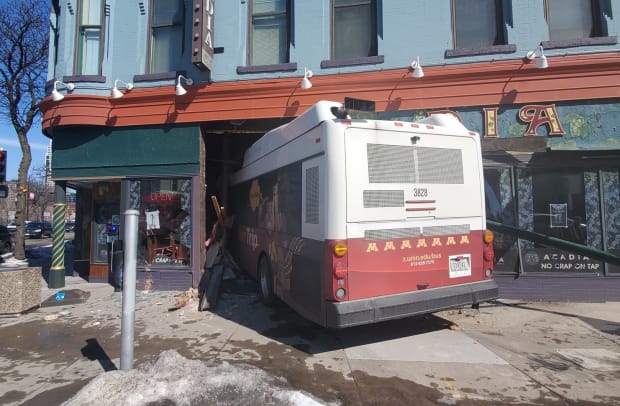 According to Butler, witnesses saw the bus hit the restaurant, stop, then continue forward again. Acadia opens at 11 a.m. on Tuesdays. It's unclear how many people were inside at the time.
Metro Transit and Minneapolis police said the bus is part of the University of Minnesota's fleet, and referred questions to the university.
The University of Minnesota told Bring Me The News Tuesday afternoon that is was a single-vehicle crash, noting there were no injuries related to the incident. The university described the bus as "crashing into the facade" of Acadia. 
"The structure will be inspected by the City of Minneapolis to determine necessary repairs," the university said. 
The cause of the crash hasn't been determined, but they are investigating.
Bring Me The News has also reached out to Acadia for more information.