Possible tornado, straight-line winds cause extensive damage in Red Wing
Photos from the Red Wing Regional Airport show collapsed hangars.
Powerful storms erupted in southern Minnesota Monday afternoon and evolved into a bowing squall line that produced widespread wind damage and one report of a tornado. 
Goodhue County in southeast Minnesota appears to have been hit the hardest with quite a bit of the damage reports coming out of Red Wing. 
Husband and wife storm chasers Tim and Katie Purington provided BMTN with a series of photos, including what they believe is weak tornado damage on the north side of Red Wing and possible straight-line wind damage at the Red Wing Regional Airport.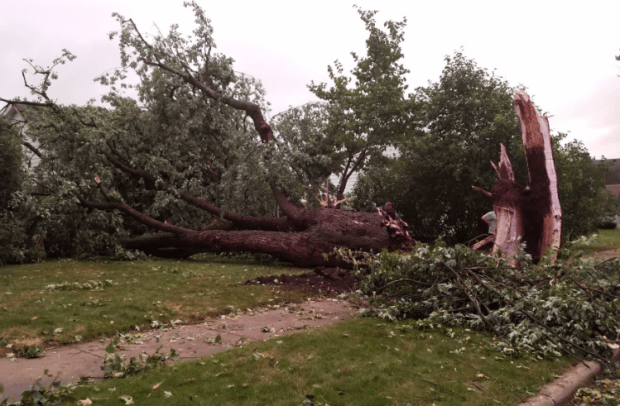 Purington said the tornado, if there was one, was likely weak and brief. He said its path appeared to be very narrow. 
"We've come across what I believe to be tornado damage. Trees just sheared off," Purington said on Twitter. 
The airport was hit pretty hard with hangars being ripped open by strong winds, causing damage to aircraft parked inside.
Related: Life-threatening flooding reported in Minnesota, Wisconsin
 The airport measured one gust of wind at 82 mph, according to the National Weather Service. 
Damage survey assessments will be conducted by the National Weather Service to determined if a tornado is to blame for any of the damage in Red Wing and surrounding areas. 
Elsewhere, there have been reported of trees being brought down, damaging cars and property, while there have been power outages reported across southeast Minnesota, where more than 3,000 households are still without electricity on Tuesday morning.
Heavy rain has also created "life-threatening" flood conditions in the southeast of the state, more on which you can read about here.