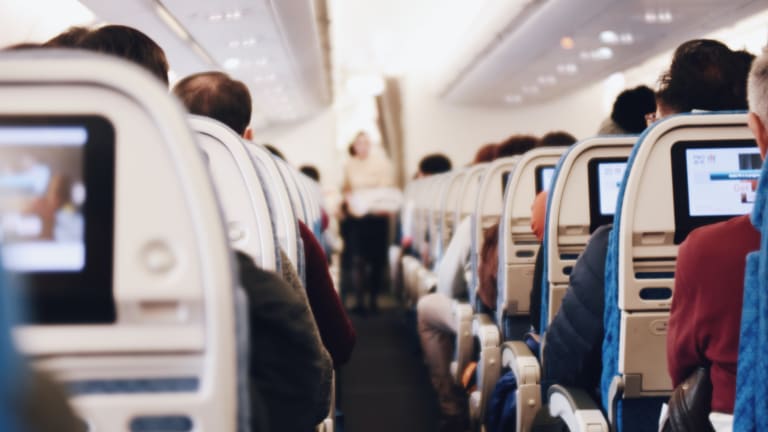 Pre-flight COVID-19 testing 'significantly' reduces risk of infection on planes, study says
Delta Air Lines teamed up with the Mayo Clinic and Georgia Department of Health on the study.
Testing travelers for COVID-19 before they fly "significantly" decreases the risk of infection on board, a new study found. 
The peer-reviewed study, conducted by Delta Air Lines, the Mayo Clinic, and the Georgia Department of Health, found the risk of exposure to COVID-19 while traveling after all passengers test negative within 72 hours of their flight is less than 0.1%. 
"We are going to live with COVID-19 variants for some time. This real-world data – not simulation models – is what governments around the world can use as a blueprint for requiring vaccinations and testing instead of quarantines to re-open borders for international travel," Delta's Chief Health Officer Dr. Henry Ting said in a statement. "Air travel risk varies depending on case rates and vaccination rates at the origin and destination, masking and other factors. 
"But the data collected from this study show that the routine use of a single molecular test within 72 hours before international travel for unvaccinated individuals significantly mitigates the risk of COVID-19 exposure and transmission during airline travel," he added. 
The study
Researchers looked at passengers who flew from New York and Atlanta to Italy between December 2020 and May 2021. As part of the study and to avoid quarantining when they arrived in Italy, travelers were required to take a molecular test 72 hours in advance. Then they had to take a rapid antigen test at the airport in New York or Atlanta in order to get a boarding pass. 
If the rapid antigen test was positive, the positive test was confirmed with a molecular test. Anyone who tested positive with the antigen and molecular test couldn't board the plane. 
When they arrived in Italy, everyone was tested again. Those who tested positive with both an antigen test and molecular test were required to quarantine per Italian rules.
From Dec. 19, 2020, to May 19, 2021, a total of 9,853 passengers were tested at the airport in the U.S. after testing negative within 72 hours before. Four passengers (0.04%) tested positive with the antigen and molecular tests and could not board the airplane. 
Of the 9,849 passengers who traveled to Italy across 129 flights, one person tested positive with the antigen and molecular tests. 
Researches say data suggest that even when there is a high level of community infection, a molecular test performed within 72 hours of a flight can decrease the rate of active COVID-19 infection on a commercial flight to a level that is significantly below community infection rates. 
"The addition of other interventions, including universal masking at the airport and onboard aircraft, increase in frequency of air exchanges and enhanced clearing, physical distancing during deplaning activities, increasing vaccination rates among travelers and exclusion of symptomatic individuals, further enhances safety," the study notes. 
Researches note the study occurred when vaccination rates were much lower in the U.S. than they are now. (It's worth noting that it also occurred before the emergence of the highly contagious delta variant.)
Ting noted this real-world study demonstrates there is a "very low risk" of infection transmission, which confirms previous simulation models of viral transmission on planes. 
The study, which was published in Mayo Clinic Proceedings, was done to help "promote recovery and to reestablish confidence in the commercial airline industry" by developing a "multipronged strategy including testing to mitigate the risk to travelers."
Related [Sept. 2]: MSP Airport reports busiest month since start of pandemic
However, this study did not look at the impact of subsequent infection at travelers' destinations, with researchers noting quarantine should be considered when someone is traveling from high- to low-incidence countries to avoid imported COVID-19 infections. 
That is one of three limitations of this study, researchers say. There is also the possibility of false-negative antigen test results, which could mean there were more people with active COVID-19 infections on the plane. This could explain the lone traveler who ended up testing positive when they arrived in Italy.
Researchers also said they can't be sure that knowledge of COVID testing at the airport deterred people with recent high-risk exposure or those who were likely to be infected. This could have led to only people who perceived themselves as low-risk traveling, especially those who connected in New York or Atlanta before flying to Italy. 
"This possibility may limit the generalizability of our findings and recommendations to the overall population of commercial air travelers," the study states. 
Overall, researchers say rapid testing is a strategy that can be used to identify COVID cases before someone gets on a plane, which will enhance the safety of airline travel by lowering the risk of an infected person boarding a plane, even when community transmission rates are high. 
"When you couple the extremely low infection rate on board a COVID-19-tested flight with the layers of protection on board including mandatory masking and hospital-grade air filtration, the risk of transmission is less than 1 in 1 million between the United States and the United Kingdom, for example," Dr. Ting said. "These numbers will improve further as vaccination rates increase and new cases decrease worldwide."
Masks are required on planes, as well as trains and buses, until at least Jan. 18, 2022, per TSA rules. Meanwhile, some airlines are requiring vaccines for employees — United Airlines and Frontier Airlines are requiring all employees to be vaccinated against COVID-19, while Delta Air Lines is requiring all new hires to be vaccinated (it recently launched a massive hiring effort)
You can read the full study here.