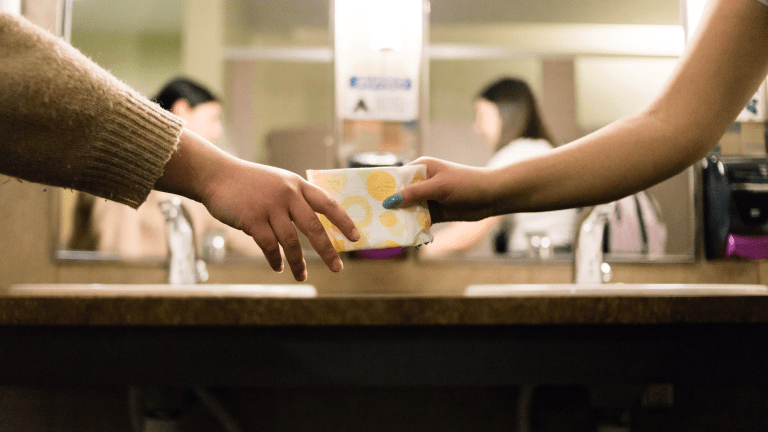 Proposed bill would require Minnesota schools to stock free menstrual products
The proposal takes aim at the effects of "period poverty."
Minnesota schools would be required to provide students with free access to pads and tampons under a new legislative proposal, which asks state lawmakers to increase school operational funding by $2 per-student to cover the expense. 
The bill, sponsored by Rep. Sandra Feist, DFL-New Brighton, passed the House Education Policy Committee on Wednesday and will be sent to the Education Finance Committee next. 
"We ensure that students have toilet paper, paper towels, soap and bandaids and we should ensure that students have period products as well," Feist said. 
The law would require Minnesota schools to stock menstrual products in student bathrooms from grades four through twelve. 
Several school nurses provided testimony in support of the proposal Wednesday, stating the law would help eliminate "period poverty" and reduce the educational loss associated with a lack of access to menstrual products. 
Karlyn D'Averill, a licensed school nurse in Richfield, said clogged toilets have revealed that students without access to menstrual products sometimes look to solutions such as rolled-up toilet paper or a younger siblings' diapers to help get through the day. 
Thomas Stinson, licensed school nurse at Harding High School, said a lack of access to menstrual products has been an issue at every school he's worked at over the course of more than two decades. 
"Every single day students come into my health office for period products," Stinson said, adding those students spend time out of class while waiting their turn in the busy office.
In the Rosemount-Apple Valley-Eagan school district, a campaign by Eagan High School students led the district to begin stocking menstrual products in school bathrooms. 
Rep. Peggy Bennett, R-Albert Lea, suggested the proposed bill could stand in the way of similar local initiatives, although she did express support for sending additional operating dollars to schools. 
"Our districts don't need another mandate," Bennett said. "We want to empower them." 
Feist said menstrual products are not a luxury, but rather a necessity for students to remain in the classroom. And, as it stands, many schools are not providing those products. 
"We should not put it on the shoulders of our students to advocate for their basic human rights," Feist said.