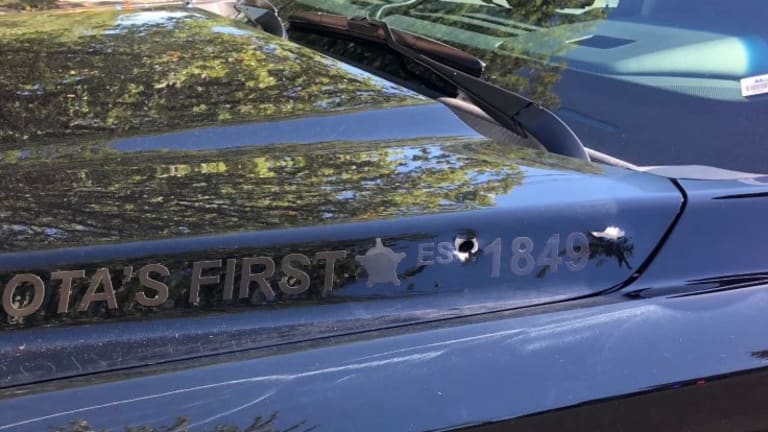 Ramsey County deputy uses squad car to ram armed assault suspect, sheriff's office says
The man had fired multiple shots at officers, striking two of their vehicles, authorities said.
Authorities have revealed more details about the "use of force" incident reported in Mounds View Wednesday.
Both the Ramsey County Sheriff's Office and Mounds View Police Department were responding to a reported felony domestic assault around 10:40 a.m., the sheriff's office said in an afternoon news release. The initial incident had occurred at the AmericInn by Wyndham on the 2200 block of Mounds View Boulevard, with a witness saying they'd seen the suspect near the Mermaid Bar & Grill.
Deputies arrived, checked on the initial victim, and then got a description of the man, according to the sheriff's office. They located him about a half mile north, on the 5200 block of Pinewood Court. 
As officers and deputies arrived, the sheriff's office said, the man "raised a handgun and fired at the approaching squads." 
One bullet hit a police officer's squad car, just above the driver's side windshield; another struck a Ramsey County deputy's squad car just below the windshield, the sheriff's office said. The sheriff's office provided photos of the bullet holes said to be from the incident, one of which is above, the other of which is here:
The deputy who had been shot at then "used his vehicle to stop the threat," according to the sheriff's office. A witness told Bring Me The News the deputy accelerated toward the man, ramming him into a nearby fence. The witness also said he'd seen the man shooting at authorities.
Law enforcement then attempted first aid on the man, the sheriff's office said. He was taken to Hennepin County Medical Center. The sheriff's office did not provide his condition.
The sheriff's office said authorities found a cocked hand gun at the scene, and again provided a photo:
The Minnesota Bureau of Criminal Apprehension is investigating the incident, and will release the identity of the suspect. 
Note: The details provided in this story are based on the police's latest version of events, and may be subject to change.