Redevelopment at former Ford Site named Highland Bridge
Developers broke ground on the 122-acre, mixed-use project on Tuesday.
The mixed-use development project planned for the former Ford Site in St. Paul has a name, and developers have broken ground on the project. 
The 122-acre project is now named Highland Bridge, Ryan Companies, the developer, announced Tuesday, along with hosting a groundbreaking at the site that featured St. Paul Mayor Melvin Carter and the City Council, project partners and other stakeholders.
"We've paid particular attention to what makes Highland Park special and our goal is to uphold those unique qualities, to expand upon them, and to create a place where people thrive for generations," said Ryan Companies North Region President Mike Ryan.
Ryan Companies also announced two additional partners for the housing portion of the project, which will include 3,800 housing units.
Pulte Group will serve as the lead developer of the rowhomes within the redevelopment. Its plans include roughly 320 homes that are 1,900-3,000 square feet, with prices starting in the upper $300,000. Construction will start this winter, with the first units being available in winter 2021.
"This rowhome community will feature a historic idea rethought with innovative and contemporary floor plans designed to complement city living with rooftop terraces, brick facades and open plans," Pulte Group Minnesota Division President Jamie Tharp said in a statement.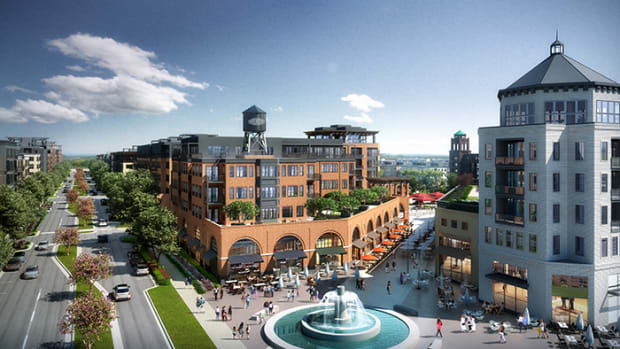 Presbyterian Homes and Services was picked to develop the senior living community at Highland Bridge, which will offer independent living, assisted living and memory care apartment options. Jon Fletcher, vice president of senior housing partners with Presbyterian Homes and Services, says the community "will allow residents to age in place and live well while being woven into the fabric of a uniquely walkable and highly programmed master planned, mixed-use community."
Pulte Group and Presbyterian Homes joins other housing developers that were previously announced for the project. Weidner Apartment Homes is the primary developer of the project's market-rate housing units, while Project for Pride in Living, CommonBond Communities and Habitat for Humanity will develop the affordable housing units at the site.  
In addition to housing, Highland Bridge will also include 150,000 square feet of retail space, 265,000 square feet of office space and 50,000 square feet of civic/institutional space, more than 55 acres of public and open space that includes four parks, a central water feature, 5 miles of paths for walking and biking and the preservation of two little league fields.
The site is also dedicated to being sustainable, with Xcel Energy recently announcing it has partnered with Ryan Companies to help it achieve its goal of providing 100 percent renewable energy at Highland Bridge.
The Ford Site, located along the Mississippi River in St. Paul, opened in 1925, producing the Model T, before manufacturing armored cars and light tanks during World War II, and then other Ford vehicles in the years that followed. It closed in 2011 after 84 years. 
More than a decade of meetings and workshops went into creating a city-approved master plan for the site, and in December 2019, Ryan Companies officially purchased 122 acres for the mixed-use redevelopment. 
Construction schedules and other details about the redevelopment will be posted on the Highland Bridge website.