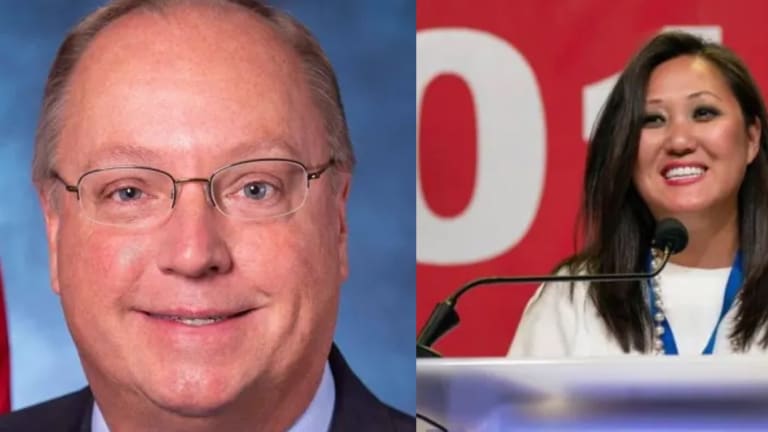 Rep. Hagedorn blames 'cancel-culture' for wife's expulsion from Minnesota GOP
Jennifer Carnahan was forced out as party chair amid a cloud of allegations.
Rep. Jim Hagedorn said the expulsion of his wife, Jennifer Carnahan, as chair of the Minnesota GOP is the result of "a small but vocal clique" that "bullied" her out of the position.
In a Facebook post Thursday morning, the 1st District congressman defending his wife's record, praised her response to the allegations and blamed "cancel-culture" for what unfolded in August. The two wed in 2018.
"No MNGOP Chair ever worked harder and with as much energy as Jennifer," wrote Hagedorn.
Carnahan, first elected the state party's chair in 2017, was pushed out by a divided executive board in mid-August, a decision in which she cast the final vote that awarded her three months' worth of severance pay. Her ouster came following a turbulent week.
First Anton Lazzaro, a Republican operative who was her close ally and a guest at her wedding to Hagedorn, was indicted for child sex trafficking. Then came reports that she failed to respond to numerous sexual harassment and assault complaints made by activists and Minnesota GOP staffers under her watch. Carnahan has denied their claims about her behavior, blaming them on disgruntled individuals.
Hagedorn, in Thursday's Facebook post, took direct aim at these allegations made against his wife, writing: "It's sad, so-called Republicans using the tactics of the radical left to 'cancel-culture' our duly elected Chair and create needless chaos for our party."
Cancel-culture is a phrase that has become increasingly used by Republicans to describe efforts by people – typically liberal – who demand consequences for a person's undesirable actions, in the form of them losing their job, position of prestige, or their reputation.
He blamed "a small clique of perpetual antagonists (some acting out of pure hatred)" who "dusted off the same unsubstantiated allegations" made during her 2021 re-election, in order to "conspire and trumpet false narratives through the media – with the sole intent to remove Jennifer as Chair."
He then called for Republicans to "reject the societal cancer of WOKE political correctness, cancel-culture and judgement," comparing the treatment of Carnahan to what former President Donald Trump and Supreme Court Justice "Brent Kavanaugh" [sic] faced. 
Follow Bring Me The News on Twitter for the latest breaking news
Carnahan has suggested she may run for office again, possibly even for governor.
Hagedorn, addressing these comments, said his wife "has lots of talent and a bright future, whether in or out of the political arena," describing her as "a strong independent woman who will chart a bold course."
Hagedorn, in his second term, is currently the subject of a House ethics investigation. In July, he announced his kidney cancer had reoccurred, but said he was encouraged by treatment options and would continue to fight.
Here is Hagedorn's full post: