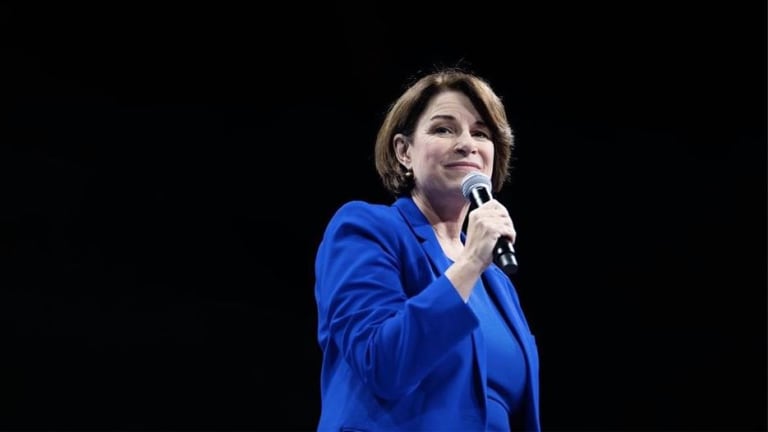 Sen. Amy Klobuchar reveals breast cancer diagnosis
She is doing well.
U.S. Sen. Amy Klobuchar has revealed she was diagnosed with breast cancer in February. 
The 61-year-old Democratic senator from Minnesota shared the news on Medium Thursday morning. She is also scheduled to appear on Good Morning America at 8 a.m. Thursday to discuss her health journey. 
"In February of this year, doctors at Mayo Clinic found small white spots called calcifications during a routine mammogram. After this was discovered, I had a biopsy at Piper Breast Center in Minneapolis, and then learned that I had Stage 1A breast cancer," she wrote. 
She had tests and went back to Mayo, where she had a lumpectomy on her right breast to remove the cancer. She then had radiation treatment in May. And in August, it was determined "the treatment went well."
"Of course this has been scary at times, since cancer is the word all of us fear, but at this point my doctors believe that my chances of developing cancer again are no greater than the average person," Klobuchar said. 
She also used the announcement about her health to remind people to get their routine examinations they may have put off due to the COVID-19 pandemic, admitting she put off hers. 
"Studies have found that thousands of people who missed their mammogram due to the pandemic may be living with undetected breast cancer," Klobuchar said. "Over and over, doctors are seeing patients who are being treated for more serious conditions that could have been caught earlier."
Klobuchar said there is "rarely a good time" to go get a mammogram or routine health screening but she hopes her experience is a reminder of the value of health checkups, exams and follow-through. 
"I am so fortunate to have caught the cancer at an early enough stage and to not need chemotherapy or other extensive treatments, which unfortunately is not the case for so many others," she said. 
The American Cancer Society says women age 45 to 54 should get mammograms every year. 
Klobuchar has been an advocate for breast cancer awareness and early testing prior to her diagnosis, supporting legislation that including the Young Women's Breast Health Education and Awareness Requires Learning Young (EARLY) Act among others. 
In her statement Thursday, she thanked her nurses and doctors and her family for their support. She also said this experience gave her time to reflect on her life and "gave me renewed purpose to my work."
"I have immense gratitude for my family, friends, colleagues, and the people of Minnesota, and I know that each day is a gift," she said.