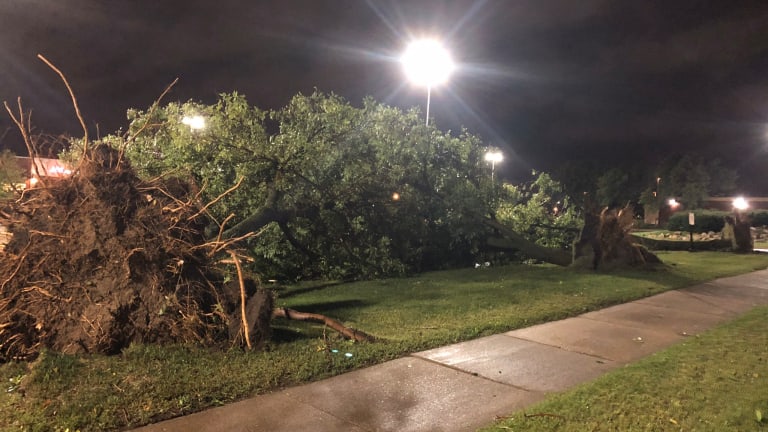 Significant damage, power outages, school delays in the Twin Cities after storms rip through overnight
Big-time damage in the south metro.
A line of severe thunderstorms ripped through the south metro overnight, leaving tens of thousands without power and widespread damage in its wake. 
As of 7 a.m. Friday, approximately 60,000 Xcel Energy customers were without power after the storms blew through around 3 a.m. That includes 17,000 customers in Washington County, nearly 16,000 in Dakota County, around 12,000 in Hennepin County and just shy of 10,000 customers in Ramsey County. 
The damage is significant enough in the south metro that all District 196 schools – that's the Rosemount-Apple Valley-Eagan district – are starting two hours late, and could possibly close for the day once school leaders have properly assessed the situation. 
"Significant damage in northeast Eagan. Multiple large trees down, street lights knocked over, garbage strewn all over the road. Had to have been well in excess of 70 mph," tweeted Jeremy Lutz. 
The National Weather Service responded to Lutz's tweet, saying the radar showed signs that the strongest winds likely moved through Savage, Burnsville and Eagan. 
The City of Burnsville says power and utility crews are assessing damage "but it will take time," though they are working "as quickly as they can." 
"Please drive/walk with care as you're out and about town today, and avoid hazardous areas if possible. If you come across major safety hazards such as downed power lines please call 9-1-1," the city said. 
One Burnsville resident wrote on Facebook that four of their trees were uprooted and a power line was on top of their neighbor's home along Oakwood Drive. The city responded, asking them to call 911 
Storms reported filed to the National Weather Service include a 64 mph wind gust at MSP Airport and a trained spotter in Savage reporting damage to buildings and power infrastructure, with "larges amounts of debris scattered around." 
It wasn't just Savage, Burnsville and Eagan that had damage. Reports of trees down, shingles blown off roofs and outdoor patio furniture being tossed around like rag dolls are also coming out of Edina, Richfield, Bloomington, Apple Valley, Inver Grove Heights, Cottage Grove, Stillwater and other locations. 
"Hudson is destroyed," a resident in the Wisconsin border town wrote in a Facebook post, showing windows blasted out of a town library. 
Hudson police wrote: "Power lines and trees down everywhere."
The line of storms that struck the Twin Cities originally developed in southeastern South Dakota and southwestern Minnesota, then raced across southern Minnesota between about midnight and 4 a.m. 
This is a developing story.