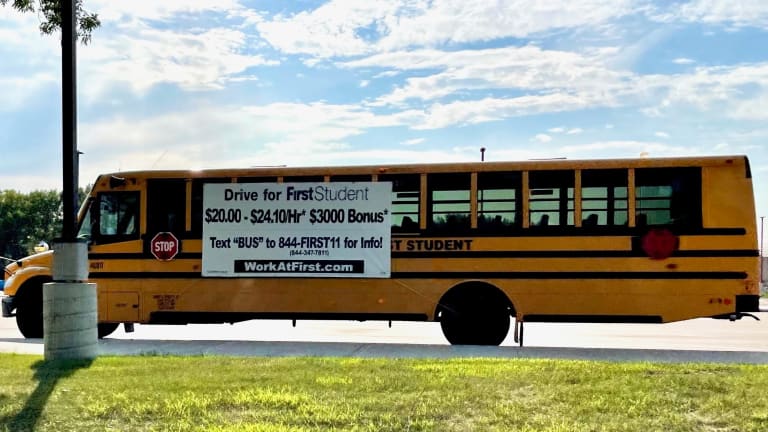 St. Paul Public Schools announces 'last-minute' school bus disruptions
K-12 students are set to begin the 2020-21 school year on Sept. 9.
The nationwide school bus driver shortage is causing major transportation issues across Minnesota, with St. Paul Public Schools the latest to announce a significant disruption just two days before the start of school.
SPPS announced Tuesday that it has been forced to prioritize bus transportation for elementary and middle school students, which will mean four high schools will have to rely on Metro Transit rather than school bus service.
What's more, staggered start times are being introduced to a number of schools in the city in order to maximize the limited school bus resources the district does have available. 
On Tuesday, Superintendent Joe Gothard said the changes would affect 10,000 students, with the staggered start times also likely to disrupt the plans parents had already made for getting their kids to and from school.
"We understand these changes are difficult on families, staff and students, especially so close to the first day of school, and we apologize for these last-minute changes," a message on the district website reads. 
High school students at Central High School, Como Park Senior High, Harding Senior High and Washington Technology Magnet School will no longer receive school bus services.
Instead, all high school students at those four schools will receive free Go-To cards to use on Metro Transit. But that means students will have to find a way to Metro Transit pick-up locations, which are closer to those four schools than others in the district. 
Students who plan to use Metro Transit are encouraged to use the Trip Planner at metrotransit.org and plan a route that will get them to the school at least 15-30 minutes before classes begin. 
If not Metro Transit, students will have to be dropped off and picked up by a private vehicle, or walk, bike or carpool to school. 
Follow Bring Me The News on Twitter for the latest breaking news
Seven schools in the district will have staggered start times until winter break, at least. These seven schools will start at the following times, with school bus services still provided. 
American Indian Magnet: 8:30 a.m.-3 p.m.
Battle Creek Middle School: 9 a.m.-3:30 p.m.
Capitol Hill Magnet School: 9:45 a.m.-4:15 p.m.
Jie Ming Mandarin Immersion: 8:30 a.m.-3 p.m.
L'Etoile du Nord Elementary: 8:30 a.m.-3 p.m. (Upper Campus) / 8:40 a.m.-3:10 p.m. (Lower Campus)
Murray Middle School: 9 a.m.-3:30 p.m.
Wellstone Elementary: 9:45 a.m.-4:15 p.m.
Families or students with questions are urged to call the district's transportation department at 651-696-9600.