State of Emergency in Wisconsin as daylight reveals massive storm damage
A tornado may have directly hit a farmstead, causing destruction.
A potent line of severe thunderstorms left a swath of damage in its path as it chewed through east-central Minnesota before strengthening as it swept across Wisconsin. 
More than 90,000 Wisconsinites were without power Thursday morning due to reports of tornadoes and powerful downbursts that uprooted trees and downed power lines. 
"Last night's storms affected communities from the Mississippi River to Lake Michigan, leaving many regions with widespread damage," Gov. Tony Evers said. "I'm declaring a State of Emergency this morning to ensure state resources are available as we work together to get communities the support and help they need."
Storms wrought havoc across western and central parts of the state. Hit hard were numerous communities, including Pepin County, just across the Minnesota border. 
"Pepin County has experienced significant weather that has knocked down many trees and power lines throughout the county," the sheriff's office announced. "Power companies, the highway department and fire departments have been dispatched to multiple areas in response. If you don't have to travel, please stay home. The power companies that service our county will restore power as soon as possible."
While widespread damage was reported nearly all across the state, it appears that a farming family in a small rural area west of Milwaukee may have been hit directly by a tornado. 
The Zastro family lives in rural Concord and their farm was essentially destroyed by the possible tornado. Photos show extensive destruction.
Zastrow farmstead destruction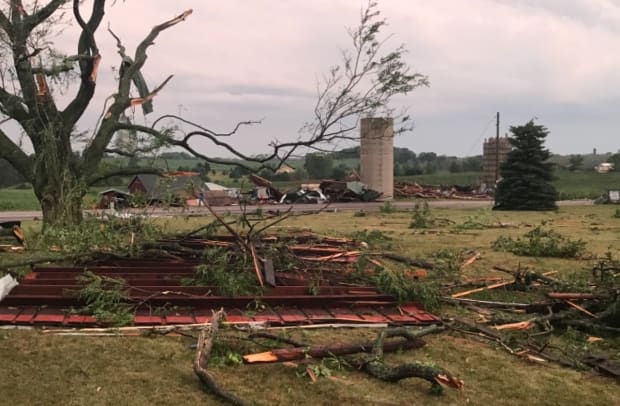 "Two of the houses on the property are condemned, and the barn was completely flattened. Insurance still has to assess the damage, but nobody is allowed in the house due to instability. There is no way of knowing if they will be able to retrieve their personal belongings. All of the vehicles were damaged, if not totaled," a GoFundMe campaign for the Zastrow family says.  
A tornado may have produced damage near New Richmond in western Wisconsin. Tanner Charles posted video of the after-dark storm, noting that he could see a clear lowering and power flashes amid the constant lightning. 
The National Weather Service in Green Bay has asked people to provide photos of damage on their Facebook page, noting that they're especially interested to see what destructive winds did in Marathon, Portage, Waupaca and Winnebago counties.
One the hardest hit locations was Omro, a small town in Winnebago County.
"Please do not go near downed power lines or remove trees near a power line. Every line should be considered live!" the City of Omro warned residents Thursday morning.
The storms erupted after 7 p.m., hours after the weather service and media outlets warned people in Minnesota and Wisconsin of a rare moderate risk day for severe storms. The weather service later issued a PDS severe thunderstorm watch, meaning it was a "particularly dangerous situation."