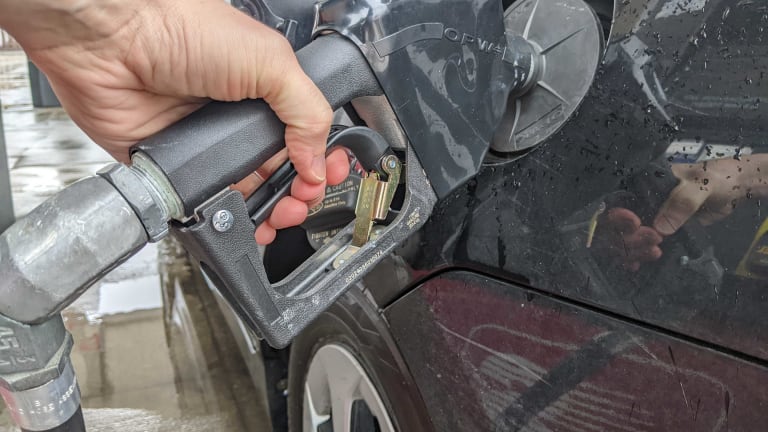 State to help 44 Minnesota gas stations add E15 pumps
The yellow 88 button is coming to more gas stations in Minnesota.
The Minnesota Department of Agriculture on Friday announced a new $6.4 million grant program to help 44 local gas stations offer more biofuel options at the pump. 
The Agricultural Growth, Research, and Innovation (AGRI) Biofuels Infrastructure Grant Program will award grants ranging from $83,000 to $199,000 to help gas stations expedite the upgrades needed to dispense Unleaded 88, according to the announcement. 
Unleaded 88, also known as E15, contains 15% ethanol and 85% gasoline. 
Investments eligible for grant dollars include upgrades such as new petroleum dispensers and fuel storage tanks. 
"These grants help the local economy by giving drivers more economical options at the gas pump and increasing access to homegrown fuel that comes from Minnesota farmers," said Agriculture Commissioner Thom Petersen. "We're also helping our environment when we increase the use of ethanol blends that burn cleaner than fossil fuels." 
The program is funded through the Minnesota Legislature and Minnesota Corn. 
The 2022-2023 grantees include: 
Ag Plus Cooperative C-Store, Marshall. 
Alan Arnold Corporation DBA Ralphie's Minnoco, Elk River. 
Awad Company - Olson's Marathon, Circle Pines. 
Bobby & Steve's Auto World Eden Prairie, Eden Prairie. 
Bobby & Steve's Auto World France, Bloomington. 
Bobby & Steve's Auto World II, Minneapolis. 
Bobby & Steve's Auto World West Bloomington, Bloomington. 
Bobby & Steve's Auto World West Minneapolis, Minneapolis. 
Chandler Cooperative Slayton Cenex Cardtrol, Chandler. 
Community Coops of Lake Park Pump 24 C-Store, Mahnomen. 
DCCM Ventures DBA Pete's Place South, Bemidji. 
Emmaville Inn, Park Rapids. 
Farmward Cooperative Cenex-Morgan, Morgan. 
Farmward Cooperative-Springfield, Springfield. 
Isaac's North Star, Sauk Centre. 
Jack's of Watkins, Watkins.
Jeff's Bobby & Steve's Auto World, Columbia Heights. 
Klennert Stores DBA Sunny's, Hill City. 
L&S Automotive, Inc. DBA Parkway BP, St. Paul. 
Lac qui Parle Coop Oil Company Dawson Station, Dawson. 
Lonsdale Food & Fuel Marketplace, Lonsdale. 
Maryland Fuel & Auto, St. Paul. 
Maryland One Stop Food & Fuel Marketplace, St. Paul. 
My Store (Bagley, Hibbing, Outing, Solway, Bemidji & Waskish). 
Nelson Auto World - University Service, Minneapolis. 
NuWay K&H Cooperative, Elmore. 
Paul's Bobby & Steve's Auto World DBA Bobby & Steve's Auto World Nicollet, Minneapolis. 
Paynesville Farmers Union Coop Oil Co. Cenex, Paynesville. 
Pick N Save Food & Fuel Express, Plymouth. 
Rothsay Truck Stop & Café, Rothsay. 
Snelling One, St. Paul. 
Sunshine & Whiskey Filling Station, Watson. 
Super Gas USA, Burnsville. 
Tri County Cooperative Oil Association Cenex-Graceville, Chokio. 
Twin Cities Auto Repair & Gas DBA Burnsville Auto Repair, Burnsville. 
University One, St. Paul. 
Wilton Petroleum, Wilton. 
Winnibigoshish Historical Center Inc. DBA Winnie Store, Bena. 
Y Store-Ledge Liquor Store, Tower.