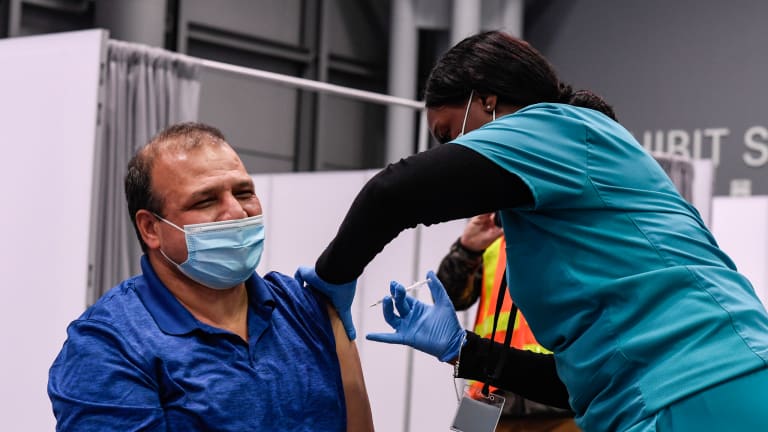 Study finds 'no serious health effects' linked to mRNA COVID vaccines
The study monitored 6.2 million recipients of the Moderna or Pfizer vaccine.
A recently published study of 6.2 million people who received an mRNA COVID vaccine found "no serious health effects linked to" the shots.
The study, published in JAMA Friday, asked the following question: "Are mRNA COVID-19 vaccines associated with increased risk for serious health outcomes during days 1 to 21 after vaccination?" 
Vaccine recipients who were part of eight health plan networks, including HealthPartners, were monitored for "health events" in the 21 days after receiving either the Moderna or Pfizer vaccine, over a period from Dec. 14, 2020, to June 26, 2021.
Researchers, after sorting and analyzing the data, "found that no serious health effects could be linked to the two mRNA vaccines currently being used to protect against COVID-19," Minnesota-based HealthPartners said in a news release.
"Our data validates the safety profile of these mRNA vaccines," said Elyse Kharbanda, MD, senior investigator with HealthPartners Institute and co-author on the study. "Vaccines are our best hope for returning to more normal lives. They help prevent COVID-19 and we can feel even more confident that they're safe."
Researchers specifically watched for 23 potential vaccine side effects, including:
Encephalitis/myelitis
Seizures
Guillain-Barre syndrome
Acute myocardial infarction
Stroke
Pulmonary embolism
Bell's palsy
Appendicitis
Anaphylaxis
Multisystem inflammatory syndrome
Researchers kept an eye out for "safety signals" during their analysis, HealthPartners said — signs of recurring, emerging concerns.
Not one of the 23 health events occurred at a rate that triggered a "safety signal," 
The study authors did highlight a couple of serious incidents, however.
First, heart inflammation (myocarditis or pericarditis, depending on which part of the heart is inflamed). Health officials have previously acknowledged some cases of heart inflammation in the week following an mRNA vaccine, mostly among males under the age of 30. They have called such side effects rare, noting it came out to approximately 12.6 heart inflammation cases per million doses administered. 
Heart inflammation cases in teens following a COVID vaccine have been "mild and self-resolving."
In the study published Friday, researchers noted 34 cases of heart inflammation (85% of them in males) among 12- to 39-year-olds. That showed a "slight risk" of 6.3 additional cases per 1 million doses administered, with about 80% hospitalized for a median of one day. 
But researchers said there is no "significant association" between the mRNA vaccines and either myocarditis or pericarditis
Follow Bring Me The News on Twitter for the latest breaking news
HealthPartners also points to a separate recent study that found heart inflammation events were "far more likely" after getting a COVID-19 infection than getting an mRNA vaccine. 
Researchers also mentioned allergic reactions (anaphylaxis) happening more often after the mRNA COVID vaccines than the 1-2 cases per million doses seen with some other vaccines including influenza. Nearly all anaphylaxis incidents after the COVID vaccines occurred among female recipients.
As of Sept. 1, 3,327,769 people in Minnesota have received at least one dose of a COVID vaccine. That includes the Johnson & Johnson vaccine, which was not part of this recently published study.