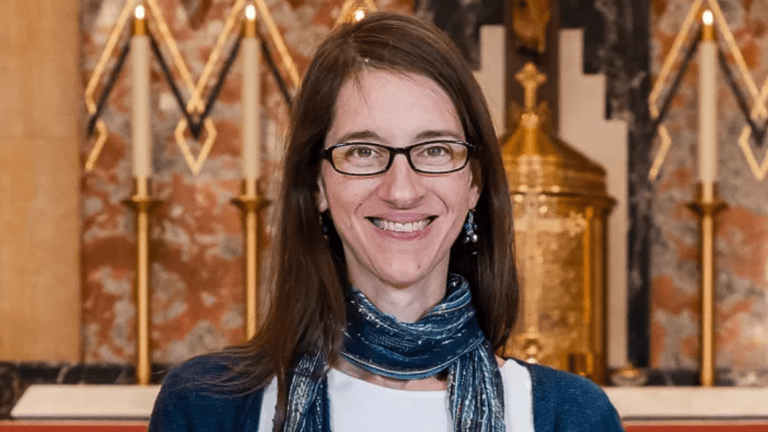 Support for family after 'brilliant' mother-of-five dies of toxic shock
Heidi Keiser is remembered as a faithful, loving mother.
The Plymouth community is raising support for a local teacher after his wife and mother of their five children died suddenly due to toxic shock syndrome. 
Heidi Keiser died Saturday after the sudden onset of streptococcal toxic shock, which led to sepsis and organ failure, according to family members. 
Her husband, Dr. Kevin Keiser, is a history and religion teacher at Providence Academy's Upper School in Plymouth. 
"We mourn deeply," the academy shared in a statement Tuesday. "Heidi was a brilliant, faithful, loving mother of five, whom she homeschooled. And together with Kevin, the Keisers were great witnesses to Christian marriage and fully integrated disciples of Christ." 
The couple had five children, ranging in age from 11 months to 14 years, according to a GoFundMe page. 
"Kevin is now widowed having to take care of the five children himself," brother Anthony Keiser shared on the fundraising page. 
According to the GoFundMe and CaringBridge sites, Kevin was only 13-years-old and the oldest of six children when his own mother died in a car accident on an icy bridge. 
"He watched as his father had to navigate a new normal, and now Kevin has to find the same for his own children," Anthony Keiser shared. 
The GoFundMe page had raised nearly $180,000 for the Keiser family as of Wednesday afternoon. 
Toxic shock syndrome is a rare, life-threatening complication of some bacterial infections, according to Mayo Clinic. Symptoms may include a sudden high fever and low blood pressure.